Kansas Insurance Commissioner Sandy Praeger chats live with users
January 26, 2011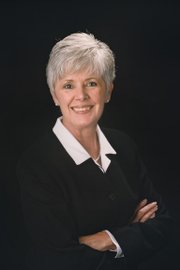 Kansas Insurance Commissioner Sandy Praeger, of Lawrence, is responsible for regulating all insurance sold in Kansas and overseeing the nearly 1,700 insurance companies and more than 94,000 agents licensed to do business in the state.
Praeger was president of the National Association of Insurance Commissioners (NAIC) in 2008. She serves as chair of the NAIC Health Insurance and Managed Care Committee, vice chair of the International Insurance Relations Committee, a member of the Executive Committee for International Association of Insurance Supervisors (IAIS) and a member of other NAIC Committees and task forces.
This chat has already taken place. Read the transcript below.
Moderator
Good morning. I would like to welcome Kansas Insurance Commissioner Sandy Praeger and Bob Hanson, public information officer, to The News Center. I am health reporter Karrey Britt and will be moderating this chat. Can you start by telling a little about yourself?
Sandy Praeger
Thanks, Karrey. It is a pleasure to be with you and your readers this morning. It actually made my morning commute shorter since I live in Lawrence.
January 26, 2011at 9:03 a.m.
You've mentioned that the health care bill provides employers with financial help for keeping early retirees on their health plans, and that 49 companies are participating. How does this work? And why is it important? Is there a list of those 49 companies available to the public?

January 6, 2011at 7:20 a.m.
Sandy Praeger
The list is available. You can email our department and we can provide it. Or you can go to the HHS website at healthcare.gov and click on early retirees and then Kansas. The new law encourages employers to keep early retirees on their employer-based plan and provides financial assistance for medical expenses between $15,000 and 90,000 annually. This program will phase out in 2014 when the guarantee issue portion of the new law kicks in.
January 26, 2011at 9:08 a.m.
Commissioner Praeger,
I am a retired school teacher who is currently carried on my previous employer's health-insurance plan. This coverage will end on Aug. 31, 2011. On May 10th., 2011, I will turn age 65 thus making me eligible to receive Medicare benefits. In preparation for the arrival of that momentous moment, specifically, what steps should I take and when? Also, since I was recently and successfully treated for prostate cancer, will this pre-existing condition reflect negatively on my Medicare and "medical-gap insurance" applications?
A response will be greatly appreciated.
THANK YOU!
January 24, 2011at 9:36 a.m.
Sandy Praeger
You will need to contact the Social Security office to apply for Medicare. Your medical history should have no negative effect on your Medicare application.
January 26, 2011at 9:11 a.m.
Why do I HAVE to pick "not a tobacco user" every year when I have never smoked, but smokers can get a discount by just saying they will TRY to quit, even though they only say it to get the discount?
I have never smoked but lose my $40. MONTHLY discount if I don't check that box.
I think that is a hardship and unfair to workers who are already not getting raises.
The smokers who can SAY they will try to quit get the discount every
year even though people at my work never plan to quit & you they go outside to smoke all year long. Do you have them take a nicotine test to see if they quit afterwards? They are getting a $40 MONTHLY discount to USE the system, while others are being unfairly treated by losing the discount & forced to pay more if they make a error in enrolling. I think this
needs to be changed. I believe smokers should pay more. I think it isUNFAIR treatment to require anyone to HAVE to pick that they are NOT a smoker every year when they DO NOT smoke to start with.
January 22, 2011at 9:48 a.m.
Sandy Praeger
I understand your frustration, but this is the policy adopted by the state employees health plan. I check the box each year to get my discount. While not perfect, it is the current policy and I for one enjoy the discount.
January 26, 2011at 9:17 a.m.
I pay my own health insurance. Bcbs rates have doubled from 192 dollars 3 years ago to 400 dollars today. Why such an increase? Plus the group I am in only has 35000 members. It would seem that BCBS has more members than that.
If you can't afford such astronomical increases, how can the insurance department help.

January 26, 2011at 6:30 a.m.
Sandy Praeger
We are continuing to see increases as the result of overall health care costs going up. One of the improvements we will see once we have our exchange up and running in Kansas is individuals will be able to see comparisons of various plans and the risk that each company is taking on will be pooled with other companies. This provides some relief. Going forward as a nation we will have to address some of the cost drivers in the health care delivery system and find better ways and more efficient and effective ways to deliver that care. Our system needs to focus on wellness.
January 26, 2011at 9:26 a.m.
Hi Commissioner. Thanks for participating in this chat. In talking with business owners I often hear a question similar to this: Say I'm a business owner who has one-full time employee and five part-time employees. I currently do not offer health insurance to any of my employees. How will my business' situation change once health care reform is fully-implemented?
Chad Lawhorn
Lawrence Journal-World
January 26, 2011at 9:12 a.m.
Sandy Praeger
Hi Chad! There is no requirement that small employers provide health insurance for their employees. Their employees will be able to purchase coverage through the exchange which will be operational in 2014. There are tax credits available for employee groups of under 25 employees. The average wage can't exceed $50,000 and the employer must pay 50% of the cost of the coverage for the employee. The employer can then take a 35% tax credit for the cost of providing coverage. The credit for an individual employer phases out after two years.
January 26, 2011at 9:36 a.m.
Moderator
Here is a question that was e-mailed to me from a reader: Should Kansas pass a Constitutional amendment to block the federal health care law?
January 26, 2011at 9:36 a.m.
Sandy Praeger
The new law is currently the law of the land. Until the question of constitutionality is clarified we need to continue to implement. While the law is not perfect there will be opportunities to correct some of the problems. But overall there are improvements in the payment system, especially the requirement that insurance companies cannot deny person coverage or charge them more because of a prior illness or medical condition. That doesn't work unless we find a way to encourage everyone to take the personal responsibility to buy coverage. Otherwise people could wait until they are sick to buy insurance thus driving up the costs for people who have insurance.
January 26, 2011at 9:43 a.m.
Medical malpractice suits seem to contribute to the practice of defensive medicine. Can this issue be addressed at the state level or does it require federal legislation?
January 25, 2011at 1:31 p.m.
Sandy Praeger
Medical malpractice contributes to the overall costs in the health care system in a variety of ways. The cost of defensive medicine is hard to quantify, but does contribute to the over utilization of health care services. Kansas has pretty good tort laws on the books, so we won't see any dramatic change in the system until it is addressed at the federal level.
January 26, 2011at 9:47 a.m.
I've heard that some insurance companies are funding wellness programs at group plan worksites. Have you seen any evidence that these programs are actually lowering claims?
January 26, 2011at 9:38 a.m.
Sandy Praeger
The focus on wellness has had some very positive results. Safeway Corp. has received a lot of attention for their focus on wellness. I think you can go to their company website and find information. This is just one example out of many that demonstrates the effectiveness of wellness programs on cost containment. Healthy employees are happy employees and job satisfaction is important for retention of good employees. Good employers understand this.
January 26, 2011at 9:51 a.m.
I have searched several times to get a better understanding of the Health Care Reform Bill but everything I find is so confusing. For an average citizen, is there a source you can recommend that I can check out to learn more?
January 26, 2011at 8:48 a.m.
Sandy Praeger
You can go to our website (ksinsurance.org) or our National Association of Insurance Commissioners (NAIC) website at naic.org. You can also find very good information at Kaiser Health News (khn.org) which is good for background on the health reform law.
January 26, 2011at 9:54 a.m.
Moderator
Thank you so much for taking time to come in. I know you have a conference call to get to, so maybe we can schedule another chat in the next few months.
January 26, 2011at 9:55 a.m.
Sandy Praeger
I'd be happy to return at some future date. I hope this has been helpful.
January 26, 2011at 9:55 a.m.