LMH pharmacy director to answer questions about drug shortage, more
October 26, 2011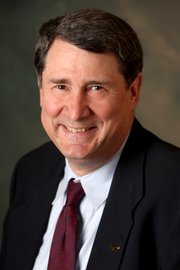 Pat Parker, director of Pharmacy and IV Therapy at Lawrence Memorial Hospital, will be available to discuss the national drug shortage and to take other questions.
Parker has been director of pharmacy at LMH since 1984 and also directed the oncology unit from 2001 to 2004. He is adjunct clinical professor of pharmacy practice with Kansas University's School of Pharmacy. He is an active member of the American Society of Health Systems Pharmacists and the Kansas Council of Health Systems Pharmacists. He has served on the Kansas Board of Pharmacy.
He also has helped organize medical mission trips to impoverished regions of Kenya where AIDS is prevalent.
This chat has already taken place. Read the transcript below.
Moderator
Thanks Pat for taking time out of your busy schedule to answer some questions. I'm health reporter Karrey Britt and will be moderating this chat at LMH's Pharmacy department.
Pat_Parker
Thanks for the invitation!
Pat
October 26, 2011at 10:07 a.m.
Do you see this shortage as an isolated event, or something that we risk repeating more and more in the future?
October 25, 2011at 3:37 p.m.
Pat_Parker
This is going to be something we will struggle with for some time. There is no quick and easy solution right now.
October 26, 2011at 10:09 a.m.
My sister lives in Oregon and takes motrin. She's having trouble finding it over the counter. I thought the drug shortages applied to prescription drugs only. Or is it more widespread than that?
October 25, 2011at 4:14 p.m.
Pat_Parker
The shortages have been remarkably variable across a variety of product lines. I have not heard about problems with ibuprofen overall; it may be that there is a local problem with just this manufacturer's product (motrin). Talk to your pharmacist about alternatives until this resolves.
October 26, 2011at 10:13 a.m.
Has a drug shortage like this ever occurred before? If so, what have we learned from it?
October 25, 2011at 6:19 p.m.
Pat_Parker
We have always faced shortages of individual products, but in my career (and yes, I've been around a while), this is by far the most widespread and problematic time I have seen.
We learned in the past to try to quickly identify useful alternatives and convey these recommendations to prescribers and patients. We also are very actively monitoring availability, so that when a product does become available, even in limited supplies, we can act to bring it back into our stock.
October 26, 2011at 10:17 a.m.
Moderator
I am curious if it pays to buy brand name over-the-counter medications versus generic kinds. Any thoughts?
October 26, 2011at 10:18 a.m.
Pat_Parker
If the products are rated equivalent by the FDA, I think the generics offer very useful cost savings. Usually the over the counter products are equivalent to be allowed into the marketed.
October 26, 2011at 10:21 a.m.
What role does the pharmacist play at LMH for a medication that is not available??
October 26, 2011at 10:12 a.m.
Pat_Parker
Frankly a key role is played first by our buyer. She will check for generic equivalents or obvious alternatives and present those to the pharmacist for review and assessment. If we don't have an obvious simple substitution, then the pharmacist needs to get busy looking into therapeutic alternatives, talking with peers nationally often times, and working with our medical staff to select and make available a planned alternative. We then have to work through the safety systems to bring the product in and safely distirbute it to our patients. Keeps us very busy.
October 26, 2011at 10:26 a.m.
Have you seen or do you expect to see this shortage seriously start to affect patients' healthcare?
October 26, 2011at 10:23 a.m.
Pat_Parker
Unfortunatly, yes. It has caused delays in therapies in most programs. For some products there are no alternatives and our national association (ASHP) has identifed multiple instances that they believe have directly contributed to a patient dying. We have not had a situation that we believe directly contributed a patient dying, but it has caused concern and delays.
Using alternative drugs is actually difficult for patients. It may mean paying more, suffering additional risk of side effects, alternative medications may not work as well for them, inconvenience by having to take more doses, etc.
October 26, 2011at 10:35 a.m.
Moderator
How many drugs are in short supply at the hospital now? What are the main ones and what are they used for?
October 26, 2011at 10:35 a.m.
Pat_Parker
As of today, I believe we are tracking about 30 products that are out, in very short supply, or in the recovery side where we can get a bit of product in but not as much as we would like. Very time consuming!
October 26, 2011at 10:37 a.m.
What are the implications of a drug shortage to the senior citizen population?
October 26, 2011at 8:56 a.m.
Pat_Parker
Great question. I'm on Board of the Douglas County Senior Services and drugs are definitely a seniors issue.
I think the biggest problem is confusing changes in treatments. What happens is that alternatives that may be effective but more difficult to take are pretty common. For example, the alternative drug requires two doses a day instead of one. Adherence to the treatment then becomes more of a problem.
The return to the previous therapy step also really causes risk and is often overlooked. When the product becomes available again, the alternative drug does not get discontinued appropriately. It may inadvertenly continue to be taken or it may require tapering to be safely discontinued. We have seen patients in our hospital with this issue on several occasions.
October 26, 2011at 10:47 a.m.
Moderator
So, I'm looking at getting a hip replacement. Are there any drugs in short supply that could affect my care?
October 26, 2011at 10:47 a.m.
Pat_Parker
Not really. I have set aside a stick for you to bite instead of using pain medications this time. I trust that will be an appropriate substitution for you.
October 26, 2011at 10:49 a.m.
Pat_Parker
I really should not tease too much about this because as a patient here earlier this year for surgery myself, it was something I checked into as well. We have our typical medications available right now for your hip surgery.
October 26, 2011at 10:50 a.m.
I've always worried -- in the back of my mind -- about what would happen if something bad happened to a particular place that makes a drug that somebody needs to maintain his or her life?... Something like a maintenance drug, or an anti-rejection drug (for transplants), etc... I just don't know how the system works: Are there multiple factories (or whatever they're called) for such drugs? Are supplies generally large enough so that even if a factory had a problem, there would be time to fix it and get production going again to make up the difference? I mea, it's one thing if we run out of Oreo cookies or something; there are other cookies. But what if there aren't any more of the one-of-a-kind drugs necessary for folks to keep going?
October 26, 2011at 10:41 a.m.
Pat_Parker
You are not going to like my answer. This is why the problems over the last couple of years have been so concerning. Critical drugs have been in short supply or completely unavailable several times. This has been due to several reasons: Consolidation of manufacturing, FDA actions which closed down an entire production line usually for quality manufacturing reasons, limited supply in the supply chain (everone is trying to reduce inventories in our challenging financial times), among other causes.... all contributing to critical shortages.
October 26, 2011at 10:57 a.m.
Pat_Parker
On the drugs currently in short supply, most of our serious problems are small volume injection drugs. These include some emergency medicines, but we are completely out of phosphate containing injections which are used in several important situations including total IV feeding solutions. We are also in short supply of fentanyl, a commonly used pain medication, but we have useful alternatives.
October 26, 2011at 11 a.m.
Moderator
So, what is being done about the shortage? Anything?
October 26, 2011at 11 a.m.
Pat_Parker
We use national and regional resources to help us identify best alternatives. We are very active in monitoring the supply chain and we are also contributing to the national debate on this. There is a bill before congress, The Preserving Access to Life-Saving Medications Act, that would expand FDA's authority to require manufacturers to notify us about product discontinuations or substantial disruptions in the supply chains. Right now that is often a closely held bit of information in the competitive sale of drugs.
October 26, 2011at 11:04 a.m.
Moderator
A commenter mentioned that the government has imposed limitations on amounts that can be manufactured. Do you know if this is true? Is it contributing to the short supply?
October 26, 2011at 11:04 a.m.
Pat_Parker
It is true that there are government imposed limitations on controlled substances designed to help limit the movement of these drugs into illegal markets. The degree to which this contributes to problems of availability I think needs to be assessed. I'm not sure how quickly a manufacturer can get permission to prepare more product when another manufacturer no longer provide it.
October 26, 2011at 11:07 a.m.
Sort of of topic. Do you see antibiotic resistance playing a much larger role in healthcare currently and what can be done about it since pharma companies really haven't released new drugs in this area?
October 26, 2011at 11:04 a.m.
Pat_Parker
Antibiotic resistance is an ongoing concern of every physician and pharmacist. Antibiotic stewardship will become more and more important because there are in fact fewer products being discovered that have been shown to be helpful, and organisms continue to find ways around what we have available.
October 26, 2011at 11:10 a.m.
Moderator
Thanks for taking the time our of your busy schedule to participate in this chat. We appreciate it.
October 26, 2011at 11:10 a.m.
Pat_Parker
Thank you, it was fun!
Pat
October 26, 2011at 11:10 a.m.