Recap: Kansas Insurance Commissioner answers questions about federal health reform
August 1, 2012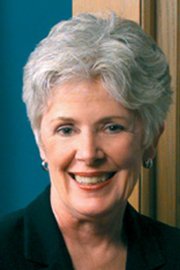 Kansas Insurance Commissioner Sandy Praeger, a Lawrence resident and Kansas University graduate, is responsible for regulating all insurance sold in Kansas and overseeing the nearly 1,700 insurance companies and more than 94,000 agents licensed to do business in the state.
She has been insurance commissioner since 2003. She was elected previously to the Kansas Senate in 1992, 1996 and 2000, and before that served one term in the Kansas House of Representatives. While in the legislature, she worked to gain passage of patient protection laws, external review of health plans and insurance, and the Kansas expansion of children's health insurance. In 2001 she led the successful campaign for mental health parity in Kansas.
Praeger was president of the National Association of Insurance Commissioners in 2008. She serves as chair of the NAIC Health Insurance and Managed Care Committee and a member of other NAIC committees and task forces.
This chat has already taken place. Read the transcript below.
Moderator
I would like to welcome Kansas Insurance Commissioner Sandy Praeger to the News Center. Thanks for coming in to answer questions today about health reform. I am health reporter Karrey Britt and will be moderating today's chat. We have quite a few questions, so I am going to go ahead and submit the first one.
Do you think that the newly approved Patient Protection and Affordable Care Act is good for Kansas?
July 30, 2012at 3:11 p.m.
Sandy_Praeger
The law like many that get passed has some good qualities and some areas that will need to be worked on as we go forward. But many Kansans are already benefitting from some of those provisions. Children can stay on their parents policies until the age of 26, no lifetime limits can be imposed on health policies, refunds will be given if the policy fails to pay at least 80% of the premium in health care costs (85% in companies with more than 50 employees). And today insurance companies begin allowing women access to important preventive services without a co-pay or deductible. In 2014 one of the most important provisions becomes law, no one will be denied coverage based on health status. In general there are many good benefits for Kansans. It does not, however, do enough to control health care costs and that will be an ongoing project.

August 1, 2012at 10:07 a.m.
I read a summary of the insurance exchange in the ACA. How could that work in Kansas? How would it be different than what we have now?
July 21, 2012at 3:55 p.m.
Sandy_Praeger
The exchange will be an online marketplace where consumers can go to find out about the health plans that are available in their area and compare those plans on benefits and costs. The plans will have to conform to a standard set of benefits to be determined by looking at what is currently available in the Kansas market. The goal here is to provide access to health insurance that covers a standard set of benefits so we can attempt to control the cost shifting that occurs when folks don't have coverage or their insurance coverage is minimal and they find themselves unable to pay for necessary medical services. The cost of those services not paid for is ultimately shifted to the rest of the insured population.
August 1, 2012at 10:13 a.m.
I am female, age 59, make approximately $15K/year, no insurance benefits, with pre-existing conditions. Will I qualify for Medicaid in 2013 if the program is expanded? (Will try to follow this chat online, but am scheduled for my annual mammogram at 11am...courtesy of and thank god for the Kansas Early Detection Works program!) Thank you for all the great work you do as our Insurance Commissioner. I am very disappointed that you did not get the opportunity to participate in creating a health exchange for Kansas. I could say more, but I won't. :)

July 31, 2012at 10:29 p.m.
Sandy_Praeger
The rules have not been established yet for Kansas but given what we know today if Kansas does participate in the Medicaid expansion I would expect that you would be eligible for the program. I am glad that you are using of the services that are available to you, especially your annual mammogram. Early detection can save lives. Thank you for your kind words and your support.
August 1, 2012at 10:17 a.m.
I'm assuming there will be startup costs for the insurance exchange. What will be the ongoing costs?
July 31, 2012at 2:02 p.m.
Sandy_Praeger
If a state is establishing its own exchange the law makes available start-up grants to those states and many states have applied for and received those grants. Once operational the exchange must be self-supporting by the second year of operation. The exchange management can decide how to achieve that but one way would be to build in a transaction fee for those selling their products on the exchange. If the federal government is running the exchange for the state, even if they are partnering with the state for some of the functions, the feds will determine how to fund it.
August 1, 2012at 10:24 a.m.
With kansas defaulting to a federal exchange, will we have any local control over what goes into the Essential Health Benefits package, or will that be determined entirely at the federal level?
August 1, 2012at 9:54 a.m.
Sandy_Praeger
We still have the opportunity to determine our essential health benefits package. The rules say if the governor of the state fails to submit their choice to Health and Human Services (HHS) by sometime this fall (the deadline is not firm yet) then the fallback position will be the plan in the small group market (under 50 employees) with the largest number of enrollees. We are currently evaluating our market in Kansas to determine which plan that would be so we can make a recommendation to the governor. If the plans fails to cover all of the required benefits then those would have to be added. If we are making the determination for Kansas we would also decide how to add those benefits. If we default to HHS making the determination they would decide how to add any required additional benefits.
August 1, 2012at 10:30 a.m.
I understand that reforms include incentives for doctors to keep patients healthy. How will this change the way I interact with my family doctor? Do you think doctors will get more serious about helping patients with lifestyle changes?
July 30, 2012at 2:34 p.m.
Sandy_Praeger
There are additional programs that are currently being tested in some communities in Kansas and across the country. Patient-centered medical homes and accountable care organizations are attempting to move our health care system to one that is better coordinated and creates incentives for keeping people healthy, working with folks with chronic conditions to better manage their care and to reduce unnecessary hospital readmissions. One project underway is Kansas is the Health Information Exchange which will make it easier for physicians and hospitals to coordinate care. One very important aspect of this project is protecting personal medical information.
August 1, 2012at 10:38 a.m.
Insurance Commissioner Praeger, Thank you for your leadership in moving forward with implementation of certain elements of the Affordable Care Act. Our question is related to the ACA. Under the health law, there are many important consumer protections, including preventive services without co-pay and new preventive services for women, among others. However, these requirements are only for new health insurance plans and plans that retain their grandfathered status are not required to comply with some of these requirements. Have you seen evidence in Kansas that some insurers or plans are including those services and benefits anyway, regardless of the status of the plan, in order to remain competitive, or are plans in Kansas simply following the rules and nothing more? Wouldn't it be in the best interest of all plans to offer these services?
August 1, 2012at 9:47 a.m.
Sandy_Praeger
Over time we anticipate that most plans will adopt many of these provisions and will not attempt to retain their grandfathered status. It is probably too early to tell how our plans in Kansas will respond. In most cases the plans you refer to are with self-insured companies, those with large employee populations. If an insurance company is wanting to offer their plan(s) on the Exchange they will have to comply with the new rules and benefit design.
August 1, 2012at 10:45 a.m.
Moderator
A majority of people have health insurance through their employer or their spouse's employer. What are some of the biggest changes, if any, that could take place for the average person who has health insurance under the Affordable Care Act?
August 1, 2012at 10:46 a.m.
Sandy_Praeger
If you have comprehensive coverage that is equal to or better than the essential health benefits (EHB) you probably will not see much if any change. Your employer will still be buying private insurance from private insurance companies. There may be some additional services, not currently included in your employer-based plan, that could be added. For example, many plans today do not cover vision and dental services for children and the EHB does require that plans add those services if they are sold through the private marketplace, either the exchange market or the market outside the exchange.
August 1, 2012at 10:54 a.m.
What can be done with people who don't have enough work quarters and have to pay $600 per month for Medicare?
Also, how will Obamacare affect this situation?
August 1, 2012at 12:34 a.m.
Sandy_Praeger
The ACA does make a few changes to Medicare. It adds one wellness visit a year and it begins to close the so-called "donut hole" in the prescription drug benefit. It does not change the basic provisions of the Medicare program which is part of the Social Security Act and does involve a certain level of participation to be eligible for those benefits.
August 1, 2012at 11:03 a.m.
Moderator
Can you explain how the Affordable Care Act will affect small businesses that may or may not offer health insurance to their employees?
August 1, 2012at 11:03 a.m.
Sandy_Praeger
There is no requirement that businesses with fewer than 50 employees provide health insurance for those employees. The law does offer a tax credit for companies with fewer than 25 employees and an average wage of less than $50,000. If the employer provides insurance for those employees and pays at least half of the premium, he/she receives a tax credit equal to 35% of that amount and that credit increases to 50% after 2014.
August 1, 2012at 11:11 a.m.
As a midlevel provider:
1) I see so much waste in healthcare, from unnecessary laboratory testing, imaging studies, trash put in red bags that doesn't need to be - who is addressing this immense waste in healthcare dollars - does the Affordable Care Act directly put pressure on healthcare providers not to do anything that is not necessary to further patient care in a rational way??? Why are healthcare providers not educated in fiscal responsibility? I RARELY ever see coworkers consider cost when ordering expensive labs and tests - they seem to have no concept that someone (ie insurance) ends up paying for all of these unnecessary tests - they do not even consider that the patient might have huge copays or deductibles - and patients do not ever think of questioning this because the "doctor" must always be right.
2) How does the Affordable Care Act attempt to educate the public that not every ailment needs lots of expensive tests and medication?? Sometimes it is ok to be sick or have pain!!!! Another huge reason healthcare spending is out of control is b/c people think that they need to always run to the doctor with every ache and pain.
3) How do midlevel providers figure into the change in healthcare reform? Will we be more autonomous? Will we be more accepted? We we will be more respected?
July 20, 2012at 8:33 a.m.
Sandy_Praeger
You make a very valid point. Our health care system needs to focus on value of the care delivered and not volume. The new law does create "accountable care organizations", first as pilot projects, with the ultimate goal of better care coordination and incentives to reduce unnecessary tests, procedures, rules and regulations, all of which can drive up costs of care unnecessarily and not produce better outcomes. We need a system that rewards accountability for both the patient and the provider.
August 1, 2012at 11:20 a.m.
Sandy, Will you be running in the Republican primary for governor in 2014? Please, Pretty Please?
July 31, 2012at 8:20 p.m.
Sandy_Praeger
2014 is a long way off. I have no plans to run for governor. Right now I am just focusing on my job as insurance commissioner and ensuring that Kansas get the best value for their insurance premium, whether it is health, life, auto, home, disability or long-term care. But thank you for asking!!
August 1, 2012at 11:25 a.m.
Will the State of Kansas offer it's citizen's the chance to purchase insurance across State lines? I read that Maine now offers this so I didn't know if this option has been discussed in Kansas at all.
August 1, 2012at 11:05 a.m.
Sandy_Praeger
Insurance plans are regulated at the state level. If a plan goes to another state to get their product approved and then brings that plan to Kansas as long as it complies with all of our laws and benefit requirements and seeks licensure with our department that is no problem. But if they offer a plan that does not comply with our state laws they would put our Kansas-approved products at a disadvantage competitively. And since our department did not approve the plan, we would not have the authority to regulate them. That consumer would have to go back to the state that did approve and try to get help. Our current system relies on our legislature to determine what plans should offer in Kansas. States can create multi-state compacts where they agree on the benefit design and other market rules and that would allow products approved in one of those states to be sold in the other states in the compact.
August 1, 2012at 11:39 a.m.
Moderator
Thanks for taking time out of your busy schedule to answer questions about health reform. This is an election year and there is a lot of misinformation out there. Where can people get reliable information about health reform or ask questions?
August 1, 2012at 11:39 a.m.
Sandy_Praeger
People can check our website at ksinsurance.org for more information regarding implementation of the Affordable Care Act in Kansas. More information can be found at the Kansas Health Institute news service at KHI.org. For national issues the Kaiser Family Foundation at KFF.org is a reliable source of information on health issues.
August 1, 2012at 11:43 a.m.