Recap: Department on Aging Secretary chats about Medicaid reform
February 6, 2012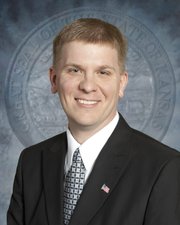 Kansas Department on Aging Secretary Shawn Sullivan will be available Feb. 6 to discuss the state's plan to privatize the Medicaid program or other policies regarding senior care.
Sullivan heads the Department on Aging which is responsible for administration of Older American's Act programs, distribution of Medicaid long-term care payments, and regulation and survey processes for several different adult care home licensure categories.
Sullivan has been involved with aging services for 18 years. Before heading the Department on Aging, he was executive director of Kansas Masonic Home in Wichita, which received a state award for its efforts in culture change and person-centered care.
This chat has already taken place. Read the transcript below.
Moderator
Thank you for taking time out of your busy schedule to participate in this online chat. I am health reporter Karrey Britt and will be moderating this chat. First, can you briefly explain KanCare? In a poll, a majority of people say they don't understand it.
Shawn Sullivan
Happy to be here. Thank you for hosting.
Currently, Kansas serves 383,000 seniors, persons with disabilities and low income family and kids through the state's Medicaid program. About 2/3rds of those 383,000 are in a managed care program. The remaining populations, mainly seniors and persons with disabilities, will be moving to a managed care plan through KanCare vendors effective January 2013. The KanCare system is intended to serve Kansans through a concept called a patient centered medical health home. The health home will allow for enhanced care coordination, particulary for those with chronic conditions and/or mental health conditions.
All Medicaid consumers will be rolled into one of three KanCare companies. The state will pay these three vendors a set amount per month to manage all of that person's care through the organizations in their "provider network".
KanCare is intended to achieve better outcomes through this health home model and decrease utilization of high cost services (Emergency Room, nursing facilities, etc), increase reliance on home and community based settings, and better integrate the mental health and medical care a person receives.
I could go on and on- but that is a basic summary.
February 6, 2012at 3:06 p.m.
This is a practical question. Once Kan-Care is implemented, will patients contact their physicians directly to make appointments or go through their medical home? Many clients also need transportation arranged for appointments. Will this be done directly or, again, through their medical home?
February 6, 2012at 8:47 a.m.
Shawn Sullivan
It depends on the situation.
In general- the medical home is intended to help a consumer and their family navigate the system and make sure the various needs of the consumer is met and coordinated. They will need to know about an appt. if they are to help the various systems (physicians, speciality physicians, mental health counselors, etc) communicate and coordinate care.
February 6, 2012at 3:10 p.m.
I am concerned about the decrease in nursing home beds. Already I know people who have had to wait in unsafe situaitons for a bed to open up in their community. The aging population is becoming a larger percentage of the overall population and home based services may not be enough to meet the needs. It is important to quality of care that people continue to live near their family and friends who can supplement and oversee the professional care. How will the state assure that enough beds stay available?
February 6, 2012at 8:51 a.m.
Shawn Sullivan
Great question Gayle. We have spent much time and effort assessing the nursing facility bed supply in Kansas. We have the 2nd most number of providers per capita in the country. We have the 5th most number of beds per capita in the country. We have the 6th highest percentage of seniors in nursing facilities in the country. So- in most parts of the state- there is ample supply of beds as shown by a statewide bed occupancy percentage of 83%. KanCare is intended to better utilize HCBS services where appropriate, in order to keep a person at home. Federal data shows that 18% of our nursing home residents could be served in a home and community based settings. My own experience as a senior living executive mirrors that data.
However, there are a few areas in the state where bed supply is short. This will continue to be a challenge. In most areas of the state, this isn't the challenge.
We did place provsisions within the new KanCare system that families and residents will be able to choose where they want to go live. It won't be dictated by the KanCare plan or by the cost per day of the nursing home.
Hope that helps.
February 6, 2012at 3:15 p.m.
Do you feel physician (or mid-level provider) in-home visits are a valuable and cost-effective mechanism to help keep older adults in their homes? and if so, what existing State-level policies (or proposals) will help encourage providers to offer such services?
Thanks, Dr. Neu
February 6, 2012at 11:31 a.m.
Shawn Sullivan
We do feel that physcian extenders are a valuable resource. Research has shown that the use of ANRPs, for example, in an enhanced care coordination role can be a very effective way to better health outcomes, increase care coordination, and reduce costs to high cost services.
We did ask in our KanCare request for proposal (RFP), how the bidders would effectively utilize physicain extenders within the new system.
The patient centered medical health home, in other states, has utilized physician extenders for some populations to increase the care coordination. The proposals for these health homes will be one of the aspects the bids, that came in on January 31, will be evaluated on.
February 6, 2012at 3:20 p.m.
Secretary Sullivan, Kansas submitted a letter of intent to pursue one of the Medicare-Medicaid Coordination Office's demonstration models. Does KanCare interact at all with the MMCO integrated managed care demonstrations to align Medicare and Medicaid payments and better coordinate care for dual eligible beneficiaries?
Thank you.
February 6, 2012at 11:31 a.m.
Shawn Sullivan
Great question. KanCare will lead to the mandatory enrollment into one of three health plans for all Medicaid consumers. We did submit a letter of intent to the Medicare/Medicaid Coordination office at the federal level to participate in a Medicaid/Medicare dual eligible demonstration model. We are moving forward with this and also plan to implement this January 2013. We will utilize the three winning bidders for the Medicaid KanCare system. The Center for Medicaid and Medicare Services (CMS) intends for the 67,000 dual eligibles in Kansas to be passively enrolled, similar to how the Medicare Part D program works. For those enrolled, they would have the KanCare vendor also manage their Medicare benefit. CMS sees this as a benefit to have enhanced care coordination and better integration of Medicaid and Medicare benefits. There are approximately 22 other states that are pursuing this as well.
February 6, 2012at 3:26 p.m.
How will the Working Healthy program, which provides medical assistance through Medicaide to the working disabled, be affected by the changes in services? Do you plan to continue this important program? Who will administer the program -- SRS or Dept of Aging?
February 6, 2012at 12:43 p.m.
Shawn Sullivan
The working healthy program would much like it is now, except within the KanCare system. It will continue to be managed by the Kansas Department of Health and Environment.
February 6, 2012at 3:31 p.m.
Shawn Sullivan
Back to the first question and the poll the LJ World is running. I am guessing the majority of people do not understand KanCare. However, I'm also betting the majority of people don't understand the current Medicaid program. Medicaid is a very complicated system.
February 6, 2012at 3:32 p.m.
Moderator
This question was submitted by email from the CEO of the Douglas County Visiting Nurses Association: Will there be a policy in place to require improved outcomes (like reducing hospitalization and emergency room visits) for the Medicaid Managed care organizations and not just reduced spending? Without these improved outcomes, the Medicaid Managed Care program will actually cost the state of Kansas more money.
February 6, 2012at 3:33 p.m.
Shawn Sullivan
We have placed assurances in the KanCare system that provider rates cannot be cut, the scope of services cannot be changes, that KanCare vendors have to utilize existing community providers, and that any current Medicaid provider has to be offered a spot in the provider network for each of the three plans. So- the only way the three KanCare vendors will make things work is by improving the coordination of care and improving health outcomes. The patient centered medical home model is intended to be an integral part in better outcomes. We have also placed "pay for performance" measures in the system. In year one- 3% of the annual contract amount will be withheld until the plans demonstrate how many of six operational/process related measures they have met. In years two and three- 5% of the annual contract amount will be withheld until the plans demonstrate how many of 15 outcomes measures have been achieved. You can find out more on these 15 on our RFP found on the KDHE or Dept. of Aging website. A few of the measures include reduced re-hospitalizations, better management of diabetes, better integration of mental heatlh and medical care, etc. The old managed care model managed costs and spending. Our KanCare system is intended to achieve savings through better care and outcomes.
February 6, 2012at 3:39 p.m.
Are you concerned that Blue Cross and Blue Shield of Kansas has decided not to bid on the proposed Medicaid managed care contracts? How will the state vet the insurance companies that submit proposals to participate in the new plan?
February 6, 2012at 11:51 a.m.
Shawn Sullivan
BCBS has said publically and told us privately that Medicaid populations does not fit within their current business model. If you look at the BCBS system across the country, I don't believe they cover any Medicaid populations or consumers. So- it's not really a surprise, at least to me.
The bids that came in on January 31 will be comprehensively evaluated by multiple teams over the next few months. They will evaluate the proposals on a number of aspects.
February 6, 2012at 3:42 p.m.
Moderator
Here's another one that was submitted by email: Why won't the administration carve out developmental disabilities from the medicaid managed care plan?
February 6, 2012at 3:42 p.m.
Shawn Sullivan
The short answer- we believe we can achieve better outcomes with their inclusion into KanCare. The long answer- there are three silos in the intelectually and developmentally disabled (I/DD) system. The first is the long-term care and supports received through CDDOs and other private providers. They do a great job. The second silo is the medical care. A KU Med Study from June 2010 demonstrated that the health outcomes of persons with I/DD have great opportunity for improvement. The management of diabetes and other chronic conditions is lacking. The third silo is mental health care. 64% of persons with I/DD in our system have a mental health condition. Often, the mental health and medical health care are not being treated as they should due to the silos and multiple funding streams within our system. We believe the best way to acheive better outcomes is to fully integrate all three silos within the KanCare system. We have protected the DD network of providers and have in the RFP that the KanCare vendors will have to utilize the current CDDO system, allow consumers to keep their current case manager, and allow them to keep their current provider of services. We expect the KanCare system to build on top of what the case managers are already doing and integrate the mental health and medical care through the patient centered medical homes already referenced. It is important to note that those professional associations of the 2nd and 3rd silos- mental health (Community Mental Health Centers) and medical care (Kansas Medical Society)- do support full inclusion of the I/DD network into KanCare.
February 6, 2012at 3:50 p.m.
Moderator
This question comes by email from Mitzi McFatrich, executive director of Kansas Advocates for Better Care: What legislation or regulation is KDOA proposing or supporting to protect elders and disabled adults from sexual and violent offenders living in KS nursing homes and assisted living, home plus, RCHF,etc. facilities?
I am aware of proposed legislation to notify facilities and residents when a sexual offender is being admitted or has been admitted.
I'm very concerned about ensuring the actual safety for residents.
The current bill does not address statutory requirements at the federal and state levels to provide a safe environment for elders and adults with disabilities in adult care homes. Nor does it address the intersection of an offender's right to long term care with the right to safety for elders and disabled adults receiving long-term care. Current Kansas policy leaves vulnerable adults to live in danger from sexual and violent offenders.
Simply notifying someone who is unable to protect her/himself is not adequately insuring safety of an elder or disabled adults or children who may be visiting in care homes.
February 6, 2012at 3:50 p.m.
Shawn Sullivan
I disagree wtih you Mitzi.
We support the notification requirements in the bill. We are concerned about the results of the bill and whether it will cause those who need care to not be able to receive it similar to what happened in Oklahoma.
I'd be happy to visit with you some other time about this.
February 6, 2012at 3:54 p.m.
For those who are in Medicare, will individuals enrollment in Medicaid managed care affect how they choose to receive care under Medicare? For example, will they still be able to enroll in fee for service Medicare?
February 6, 2012at 3:10 p.m.
Shawn Sullivan
We are pursuing a Medicare/Medicaid demonstration grant with the federal govt. that would be implemented at the same time as KanCare in January '13. All Medicaid consumers will be in one of the three KanCare plans. For those 67,000 that also have Medicare coverage in addition to Medicaid, they will be "passively enrolled" into the Medicare portion of the program. If they wish to disenroll from the Medicare managed benefit through KanCare, they will be able to do so and go back to the fee-for-service Medicare plan.
February 6, 2012at 3:58 p.m.
How is the Department of Aging going to develop the expertise to take on additional responsibilities such as the H.C.B.S. waiver?
February 6, 2012at 2:33 p.m.
Shawn Sullivan
I am assuming you are referencing the proposed executive re-organization order (ERO) that would create the Kansas Department for Aging and Disabilities (KDADs). This ERO would combine our aging programs with the disability programs at SRS including all of the waivers, mental health, substance abuse and the five state hospitals/institutions. Currently, the HCBS waivers are split between KDOA and SRS. This would bring them all under the auspices of KDADs. Program staff and leadership currently at SRS managing the waivers will come over to the new KDADs agency. This is an ERO that is widely supported by aging groups, disability groups and mental health groups. Primarily because it simplifies our Medicaid program and KDADs will have the program oversight, quality oversight, and policy development functions of Medicaid programs while KDHE will have the KanCare finance functions. Other states we have talked to in a managed care set-up has said this is critical to have the proper oversight structure. Also- it was reported by a local advocacy group and covered by the LJ World last week that the ERO would cause aging issues to fall through the cracks. I don't believe this is the case at all. Aging and disability programs would be housed within what will be the 2nd largest state agency. This will create a structure where more attention should be placed on these critical programs. Also, the sheer demograhic changes coming in America through baby boomers will demand continued attention on issues of importance to seniors.
February 6, 2012at 4:07 p.m.
How can you as a young person have a clue about the needs of older folks ?
February 6, 2012at 3:55 p.m.
Shawn Sullivan
Well....this job has aged me according to my wife. Does that qualify me? I have spent the last 18 years working in the field of senior services. I have worked in both rual and metro areas as a provider here in Kansas. I also have a Master's Degree in Gerontology. I have served on both state and national boards related to aging services.
Polls show that 8 out of 10 seniors that personally know me happen to like me. Okay- that last one is a joke. Albeit a very poor one.
February 6, 2012at 4:11 p.m.
Are there plans or expectations for selected 3 agencies to develop some type of universal/commonalities regarding credentialing & compliance measures or will those providing the services need to ensure that they meet requirements/expectations for 3 different agencies?
February 6, 2012at 3:51 p.m.
Shawn Sullivan
We did place several assurances in the system requiring as many commonalities as possible between the three plans. I have heard from many providers the last several weeks as I have made the rounds across the state that credentailing and compliance measures are a concern that they be as uniform as possible. I promise you that I do have that at the top of my radar.
February 6, 2012at 4:15 p.m.
Moderator
Thank you for participating in this chat and answering these questions. We really appreciate it. Hope you will do it again sometime.
February 6, 2012at 4:16 p.m.
Shawn Sullivan
Thank you all for joining us. The KanCare system is truly intended to achieve better outcomes for those it will serve. Our administration believes this integrated approach to care and services is a much better alternative to what other states have done, which is cut provider rates, restrict eligibility, or cut benefits. I encourage you all to find out as much as you can about the new system. You can find out more by visiting www.agingkansas.org, at the "KanCare Information" link. You can also ask more questions by emailing KanCare@ks.gov. You can also find out more on the patient centered medical health home approach on the RFP link on the website. This health home apprach will be the method for how KanCare will acheive the better care integration and reduced costs.
Thank you again and have a great afternoon!
February 6, 2012at 4:22 p.m.