Recap: Lawrence doctor chats about unique practice
February 16, 2012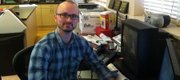 Dr. Ryan Neuhofel will be available Feb. 16 to discuss his new family practice in Lawrence.
Neuhofel is unique in that he doesn't accept health insurance or third party plans; instead he charges fees for services. He's even willing to barter.
This chat has already taken place. Read the transcript below.