Recap: Health department director chats about services, role in community
February 22, 2012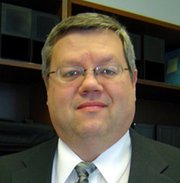 Lawrence-Douglas County Health Department Director Dan Partridge discussed the department's role in community health.
The department is gathering information from the public about its health concerns through focus groups, an online survey and one-on-one interviews so it can do a better job of providing services.
Partridge has spent nearly 20 years in public health and became the director of the Lawrence-Douglas County Health Department in 2007. He previously served as director of administrative services for the Reno County Health Department in Hutchinson, where he also served as director of environmental health and as an environmental health sanitarian.

This chat has already taken place. Read the transcript below.
Moderator
Thanks for taking time today to come to The News Center and chat about community health. Let's start by telling our readers what you do as director of the Lawrence-Douglas County Health Department.
Dan_Partridge
I view my role at the Health Department as having two sets of customers. The first set of customers I have is you - the community as a whole - my job is to help this community understand the health significance of the decisions we make not only at an individual level but also those made by policy makers. We are more likely to make good decisions if we base them on information we can trust. That is why we are currently engaged in this community health assessment process. We want to understand the needs of our community in order to provide health promotion messages for individuals and work with community organizations in the development of a plan to improve the health of the community through policy and program coordination
I also view the clients we see in our clinic and the staff who serve them as my customers and my role is to assure we have the resources needed to meet their needs.
February 22, 2012at 11:18 a.m.
Moderator
I forgot to introduce myself ... I am health reporter Karrey Britt and will be moderating the chat. Can you tell us about the online community survey and what that's about? Why is it important for residents to fill out?
February 22, 2012at 11:18 a.m.
Dan_Partridge
This is a convenient and opportune time for you to let us know what is important to you. The survey consists of 40 questions and should take around 10 minutes to complete. The questions are broad in scope and will shape the content of the report we plan to release for public comment this spring.
The survey is available online at healthylawrence.org and has been distributed widely throughout the community in paper form as well. One of the more universal access points for the paper survey is the Lawrence Library. Our goal is to collect at least 1,200 responses and we have just passed the 1,000 mark
The community health assessment is one of several methods we are employing with our partners to identify what is important to us at it relates to our health and quality of life. The KU Work Group for Community Health and Development and the Douglas County Community Health Improvement Partnership are assisting us in this effort.

February 22, 2012at 11:29 a.m.
what do you think of efforts to pass a state law that would allow more people to exempt their children from getting vaccines?
February 22, 2012at 11:05 a.m.
Dan_Partridge
I believe immunizations are one of the greatest public health achievements of the 20th century and we have made tremendous progress in eliminating childhood diseases and do not support efforts that would reduce immunization rates. There are already religious and health exemptions available to parents and I believe they are sufficient. In my view the State Legislature made the right decision when they chose to not advance a bill that would expand the exemption clause for childhood vaccinations.
February 22, 2012at 11:37 a.m.
KU is looking to add a new School of Public Health at its KU Medical Center campus. What's your opinion on that move, and do you see the need for more qualified job candidates in this area?
February 22, 2012at 11:07 a.m.
Dan_Partridge
As a graduate of KU's program I support the decision to be recognized as a school of public health. The public health workforce in Kansas needs the infusion of education and training a school of public health can provide. On a related note though we also need to look for ways to keep our graduates employed in the State of Kansas.
February 22, 2012at 11:41 a.m.
What bills are you watching in the current legislative session that you think will have a significant impact on your operation?
February 22, 2012at 11:18 a.m.
Dan_Partridge
There is a bill in the House that would require us to verify citizen status for clients receiving "public benefit" services. If passed we would have to sort out what services are impacted and what conflict there might be with federal requirements for non-discrimination (such as Title X). If the bill passes we would have to absorb increased costs and likely reduce our services.
February 22, 2012at 11:47 a.m.
Moderator
This question comes from Carleen Roberts, executive director of Douglas County Senior Services: How does the health department currently support seniors in rural Douglas County and what plans does the department have in place to foster a health senior population.
February 22, 2012at 11:47 a.m.
Dan_Partridge
The primary program we operate for serving the needs of the elderly is Project LIVELY. Project LIVELY provides care management services for people over the age of 55. We start by assessing their needs and ability to live safely in their home. Then we work to connect them to programs or providers such as Douglas County Senior Services so that their health and safety needs are adequately addressed, However, Project LIVELY is stretched thin and we realize there are many unmet needs in the senior population. The program is completely funded by local taxes and is one of the programs we provide that I most frequently hear from the public that they value.
February 22, 2012at 11:58 a.m.
Moderator
Will the state's plan to privatize the Medicaid system by January 2013 — called KanCare — affect the health department? If so, how? Any concerns?
February 22, 2012at 11:59 a.m.
Dan_Partridge
Yes we will be impacted in that our business processes will change. We are currently working to develop contractual agreements with potential managed care providers in order to assure we can continue to serve the medicaid population. With that said at this point I don't see it affecting those who use our services.
February 22, 2012at 12:03 p.m.
Moderator
How many Medicaid clients does the health department serve? What types of services are provided to these clients?
February 22, 2012at 12:05 p.m.
Dan_Partridge
I don't have an exact number available to me but I can say that a large proportion of the clients receiving direct services from us are medicaid eligible. We do not provide illness care and as a result we do not generate a lot of fee for service income from Medicaid. We primarily serve that population through grant programs such as WIC, Family Planning, Immunizations and case management aimed at improving birth outcomes and early childhood development.
February 22, 2012at 12:11 p.m.
What do you think is the #1 public health challenge facing Lawrence and Douglas County?
February 22, 2012at 11:46 a.m.
Dan_Partridge
I want to preface my answer by saying in public health and health in general everything is connected. So, while I view obesity as our number one health issue we have to recognize that there are many factors that play into our obesity rate for Douglas County being at 59%. It is not just a personal choice issue. Income, education, genetics, our level of social support or connectedness, where we live, what policies has our community adopted to encourage healthy eating all play a part. Our plan with this community health assessment is to identify the top issues and then ask the community to help us decide what we could and should do about them.
February 22, 2012at 12:20 p.m.
Moderator
What has been the health department's role in an initiative to get a Complete Streets policy passed in Lawrence? Why do you support it and where does it stand in the policymaking process?
February 22, 2012at 12:22 p.m.
Dan_Partridge
"Complete Streets" are streets that have been designed to accommodate all modes of transportations walking, biking and auto and that thought is put into creating safe routes for people to actually go to work, school, parks or places of business. When we make walking or biking safe and we provide them with a destination the public is more likely to forego getting in the car and increase their level of physical activity.
As a member of LiveWell Lawrence we facilitated a stakeholders group that has advocated passage of a complete streets policy. This group reviewed the City of Lawrence's proposed policy and we have been very pleased with the process. City staff were very willing to listen to our points of view it is currently listed on the future agenda for the City Commission and I am hopeful that we will see it passed soon.
February 22, 2012at 12:34 p.m.
Moderator
I am aware that the health department has been conducting one-on-one interviews and having focus group discussions in addition to the online survey. Any feedback so far? Where is the health department in this process?
February 22, 2012at 12:35 p.m.
Dan_Partridge
We will complete the focus group and interview efforts by the end of the month. Currently we have held 10 focus groups and conducted or scheduled 23 interviews. Our steering committee has not yet reviewed the feedback we are receiving but our timeline is to convert this into a report for the public by May and to then hold a series of community forums to talk about what we heard.
I would like to use this question as an opportunity to say that I continue to be interested in what you have to say and welcome the opportunity to meet with your neighborhood association or other group to hear from you how the Health Department is doing and what we can do be more effective.
February 22, 2012at 12:44 p.m.
Moderator
Thanks for taking so much time to answer questions and participate in this chat. Have a good afternoon.
February 22, 2012at 12:45 p.m.