Recap: Just Food director chats about services, hunger in Douglas County
March 1, 2012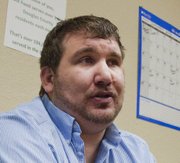 Just Food is the food bank for Douglas County. In 2011, it distributed $676,503 worth of food, or about 880,000 meals, for free to 84,699 people, a 21 percent increase from a year earlier.
Farmer has spent 10 years working for churches, nonprofits and being an advocate for the marginalized. Before returning to his hometown of Lawrence, Farmer was director of community awareness at Project Hope Food Bank in Arkansas.
This chat has already taken place. Read the transcript below.
Moderator
Thanks for coming in to participate in this chat. I am health reporter Karrey Britt and will be moderating the chat. First, tell us about Just Food and what your role is?
Jeremy_Farmer
Thanks for having me, Karrey. And I'd like to say also, thanks to all of those in Douglas County who support Just Food and its agencies. Exciting things are happening!
I am the Executive Director of Just Food. Basically, that means that I oversee the day to day operations of our four programs: food pantry, mobile food pantry, federal commodity distribution, as well as building bridges to other incredible partner agencies within the county who are feeding literally thousands of people each month.
Just Food is the food bank of Douglas County, and as I mentioned before, we have four programs.
Our food pantry currently serves nearly 3,000 people each month, 40% of which are children under the age of 18. We provide folks a bag or box of food who are within 185% of the federal poverty level.
Our mobile food pantry serves 700-1000 people each month. It happens on the second Monday. We distribute between 7-10 tons of perishable food to that many people in 90 minutes. It's quite the sight to behold. There is no income requirement for this program.
Our federal commodity program gives out food to people who are within 130% of the federal poverty level. We distribute senior commodities through our Commodity Supplemental Food Program (CSFP) and our Temporary Emergency Food Assistance Program (TEFAP). We distribute to nearly 800 people each month.
Finally, our partner agency program is one that I am personally excited about. We partner with more than 30 Douglas County agencies to provide them access to food from food drives that we do in the community at no cost. If there are any food agencies in the county that currently do not partner with us, we want them to give us a call. We are all about getting more food to agencies so they can stretch their dollars further to feed more people.
March 1, 2012at 2:04 p.m.
Is there any part of Lawrence that is designated as a "food desert"?
March 1, 2012at 11:35 a.m.
Jeremy_Farmer
Great question. Alex. Thanks so much for contributing to this chat! The Douglas County Food Policy Council distributed a report (I think) at the end of last year that talk about food deserts in the county. This means that people in that general area of the county didn't have access to a grocery store. I'm sure Karrey can put a link up to the report later as an addendum to this question. As terrific as that information was, it didn't tell us what we needed to know as far as where food pantries/feeding programs are in the county and where people in the county are utilizing its services. Part of our goal for 2012 is to figure out where people who are accessing the services of a food pantry/feeding program are, and where the closest food pantry/feeding program to them is. This is important information, because we want to know how we can provide more food access to people in the county.
March 1, 2012at 2:10 p.m.
Who is eligible for your services, and what are the income guidelines?
February 28, 2012at 4:25 a.m.
Jeremy_Farmer
Great question, misterlee. The first requirement for people to access our services is that they are a resident of Douglas County. It is really important to us that Douglas County donations stay in Douglas County to feed Douglas County residents. We require people for all of our services to have a Douglas County ID, or a photo ID with a piece of mail postmarked within the last 30 days.
For people to be eligible to access our food pantry, people must be within 185% of the federal poverty level. For a household of 1, this means that a person cannot gross more than $1,700 per month. For a household of 2, the household cannot gross more than a little over $2,300. I will send the chart with the income guidelines to Karrey to post as an addendum to this question (sorry for all the addendums, Karrey!) In order for us to know this information, we require a simple application that gives us the name, address, number of people in the household, the ages of those in the household and a self-declaration of income. We don't require any fiscal documentation for our food pantry. We set the number at 185% of the federal poverty level because a study done by Feeding America (the national network of food banks) found that 60% of Douglas County is at or below that threshold.
For people to be eligible to access our federal commodity program, those numbers are regulated by the state, and it is within 130% of the federal poverty level. For the Senior Commodity Program (CSFP), the United States Department of Agriculture requires us to get all documentation of income, proof of residence and proof of identity. Our family commodity program (TEFAP) is a self declaration of income as well.
Our wonderful partners have their own requirements; we don't stipulate for them what their requirements are. They can do whatever they see fit as far as food distribution. We are just glad that they are doing it! I should add that we have a Douglas County Food Assistance Guide that we give to all clients who need more than what our food pantry offers that gives out the requirements of each of the other food pantries/feeding programs in the county.
March 1, 2012at 2:18 p.m.
Who is the typical person Just Food serves? Do you see the same people week after week?
Thanks,
Simran
February 29, 2012at 3:08 p.m.
Jeremy_Farmer
Ah, Simran. Wonderful question. Part of what I love about my job is that hunger has faces, names and voices that no one would think it has. We serve so many different diverse groups of people of all ethnicities, gender and age. The typical person that Just Food serves is defined by one word: need. We want to make it easy for people to access our services.
The perception surrounding social service agencies that many people have is that people just abuse the system. I have always known deep down that that wasn't the case, but I didn't have statistical proof to back it up...until recently.
We started looking at numbers from 2010 and 2011 to calculate our recidivism rate. This means, that we wanted to know how many people were coming back month to month vs. how many new people we were serving. We looked at the scope of everyone we served for calendar year 2010 and 2011 and the statistics made me smile.
For 2011, out of the 24,099 people that we served through our food pantry program:
-47% of people came ONLY ONCE
-75% of people came THREE times or less
-89% of people came SIX months of less
LESS than ONE percent came all twelve months. We are truly helping the people who need it. I cannot describe the generosity of the people we work with on a daily basis. We have clients who tell us all the time that they skip a month or two because they have adequate food, so that someone else who is more in need can have it. We even had a story at Christmas time of a lady who gave her Christmas meal away to another lady who wasn't signed up on a list. Their generosity blows me away everyday.
It's staggering to think about the statistics being, perhaps opposite of what we think they are, but it's true.
The most alarming thing we've seen is that the number of people coming back to our food pantry is decreasing, but the number of new families coming to access our services is increasing...
To the point where in 2011:
We served 21% more people, 51% more children and 79% more senior citizens over the age of 60.
March 1, 2012at 2:26 p.m.
First, I want to thank your agency for the help you give our community. It is so important for those of us barely scraping by to have options to keep food in the cupboard. With the reduction in food stamps, it is so hard to afford to eat a meal or two a day.
My question regards food for people with diabetes. I cannot eat a lot of the food that most food pantries offer. I am diabetic, and so I am more limited on what I can eat. I could benefit greatly from Ensure type product, but have been unable to get this at local food pantries. I am often offered canned fruit and other items that I cannot eat like salty meats.
Is there a plan for people who cannot eat the food you offer? Is there anything I can do to access Ensure or other healthy foods?
March 1, 2012at 8:29 a.m.
Jeremy_Farmer
Thank you for your kind words. There are so many agencies in this community who are spending money on a very limited budget to provide food to the ever-increasing need of folks who, after the rent is paid and the car is filled up with gas, can't afford food.
We are seeing an increasing number of people with special dietary needs. It's more than just the typical "I don't like this, can I have something else." Quite a few folks, in a similar situation as yours, are diabetic, vegan, vegetarian, on a liquid only diet, etc.
The reason why many food pantries are unable to offer the things that you are requesting is two fold: those things are hardly ever donated by people, and if they aren't donated, they are super expensive to buy from the store.
We are constantly looking at ways to help those with special dietary restrictions through our food pantry, and ways to work with local grocery stores, and wholesale grocers at how to get our pantry and other agencies in Douglas County access to these items.
We are working a program where we will put together the things that we have for folks who have special needs to provide them with a special bag/box of food. It may not contain everything that typical bag/box would, but at least it will be something to supplement special needs that folks have. Through our pantry, if you will inform the intake person, we will see what we have and try to put something together that will suit the special needs that you have. Rest assured, these are the things that keep us on our toes, trying to constantly evaluate where we are, and how we can do our jobs better. Thank you for asking a wonderful question!
March 1, 2012at 2:33 p.m.
A lot of Douglas County residents have gardens. Does Just Food accept donations of produce raised in gardens?
March 1, 2012at 11:30 a.m.
Jeremy_Farmer
jayhawkanne, ABSOLUTELY! We have been so fortunate to partner with the Farmers Market and the Douglas County Master Gardeners, as well as several local farms: Taylor Farms, Voight Farms, and several others whose names are escaping me at the moment. We will always accept donations from local residents who have extra produce to donate. Our Master Gardeners are trying to get people to "plant a row for the hungry" -- that is, everyone who has a garden plant an extra row of something to donate to feed people in the county. We had nearly 40,000 pounds of local produce from Douglas County donated last spring/summer and our clients are so appreciative of all of those who put sweat equity into putting food on their plates. Mondays at 1:00 p.m. when we open up, there is a line of people because that's when we have the most produce.
Part of the great part about this is that we will store the produce that is donated to use in our food pantry, but also to let our agencies have to give out through their food pantries/feeding programs. Most of our agencies don't have a walk-in cooler/freezer like we do to store those things and so for us to be able to do that and have them come and get it as they need it is huge. Donated produce not only helps those clients through our food pantry, but also helps all of the clients that are served by our tremendous agencies in Douglas County: from Lawrence, to Baldwin City, Eudora and Lecompton!
March 1, 2012at 2:40 p.m.
Moderator
So, can gardeners just drop off extra produce at the pantry while it's open?
March 1, 2012at 2:43 p.m.
Jeremy_Farmer
Absolutely. Our warehouse is open Monday-Friday 9am-4pm. We will be moving to a new facility and begin operations there April 2, and gardeners can drop off any items at the back of that new warehouse. Currently, just come in and let someone know that you have produce, and we will have our volunteers help get it unloaded, weighed and store it for our clients to take and cook at home.
March 1, 2012at 2:44 p.m.
Moderator
Where is the new facility?
March 1, 2012at 2:46 p.m.
Jeremy_Farmer
Great question. The new facility is just a few doors down from where our current facility is. Anyone who has been there will notice that we are completely out of room. We are utilizing every nook and cranny that we can. Hy-Vee on Clinton Parkway, as they did their remodel, graciously donated a 9'x30' cooler that we will have to store six times more food that need to be refrigerated. We will be converting our current refrigerator/freezer to an all freezer unit, and we will be able to more effectively serve the increasing numbers of people that we serve, as well as provide better services to our ever-increasing number of agencies.
The great part is our clients will no longer have to come in to our warehouse to receive food. We will have a lobby with more seating, more room and we'll be able to not be so crammed when 30 families are waiting to receive food assistance on our busy days.
The address of our new facility is 1000 E. 11th Street. I would encourage anyone to go by and see it. We'll be moving the entire month of March and we will not be suspending any of our operations at Just Food. This was HUGELY important to us because we have so many people who depend on the food they get from us, and we didn't want to add the stress of caring for hundreds more families to our agencies, who are already serving increasing numbers of people on their own.
We are excited about this move to a new facility that will give us a little breathing room to do what we do better, as well as room to grow and expand the things we can do for our clients, as well as our agencies.
March 1, 2012at 2:50 p.m.
What does it cost to run the food bank in terms of staffing? How much volunteer time contributes to your ability to serve the recent high demand?
March 1, 2012at 2:33 p.m.
Jeremy_Farmer
In 2011, we distributed $719,000 worth of food, which equaled nearly a million pounds. To do this, we have two full time staff people: myself and a full time warehouse manager. We are dedicated to utilizing as many volunteers as we possibly can...namely because the lower we keep our costs, the more food we can buy and provide for our clients and agencies. Our two staff salaries total $70,000 annually. To run the day to day operations of the food bank, we have anywhere from 5-10 volunteers that come in everyday to help us in the warehouse, pickups/deliveries, food sorting, administrative needs, events, etc.
We have four volunteers in particular who volunteer their time full time. We were closed yesterday, we gave our volunteers a day off to get ready for the big move to our new facility, and two volunteers showed up and worked all day. We have a wonderful culture where everyone is a part of the successes of what we do. I couldn't do it by myself, Brandon, our warehouse manager, couldn't do it by himself. We are so grateful for the incredible volunteers we have. We definitely COULD NOT do what we do without them.
March 1, 2012at 3:06 p.m.
Hi Jeremy. I'm a representative from Heartland Community Health Center, one of your partnering agencies. We'd like to thank you for the aid we've received from Just Food for our food pantry. I would like to know what Just Food's vision is for the future? What is the ideal functioning of Just Food?
March 1, 2012at 2:07 p.m.
Jeremy_Farmer
Hi, Ali! I haven't gotten the opportunity to meet you yet, but have heard so many great things about Heartland.
You asked a wonderful question. There's so many different things that we want to do, but we will continue to get the input of our partner agencies (you'll be receiving information about a partner agency meeting that we will be having in March here shortly).
The vision for Just Food from the beginning was to be a food bank for the agencies in Douglas County. Just Food was never meant to have a food pantry, but to coordinate the distribution of food within the county. When we received the infusion of stimulus funds from ECKAN (who has been an incredible partner of ours since the beginning), ECKAN had a food pantry that they operated out of a closet in the United Way building. It made sense to them that the food pantry should be at the food bank, and the "if you build it, they will come" Field of Dreams happened. We had a huge warehouse and people started to come in droves.
My ideal vision for Just Food would be to work with local grocery stores & wholesale grocers and get buying power from all of the agencies in the county and initially get access to food at that price. Down the road, I'd like to see Just Food subsidize the cost of food for its agencies so that they receive a certain discount per pound from what Just Food pays for it wholesale and for us to raise the difference of those funds to continue to provide even lower cost food to our agencies. It is very important to me that we be a resource for all of our Douglas County agencies. Most of the agencies primary function is not food distribution, but it has been something that, due to the increasing need, they have offered. This means that with money agencies really don't have, they are trying to feed hundreds of people each month. I want to see a way for agencies to purchase more food and to leverage and stretch their dollars further to be able to provide more food to people who need it.
One of the things that I think we've been good at is identifying hunger as an issue in our county. We haven't started asking the hard question: why? Just Food is polling its clients and finding out that many of them don't know what to do with the food that they are receiving. So, this year, as we move into our new facility, we are rolling out a community health, education and nutrition initiative. This means that we will not only distribute food, but also teach people what to do with it.
The ideal functioning of Just Food is to be a collaborative place of food distribution within the county. My goal is to come up with a model of decentralized food distribution that we can then start providing to other counties in our region. I don't want to add a county to Just Food's distribution. But I think we can come up with a model and provide a toolkit for other counties to be as successful as we have at collaborating with other agencies, providing access and educating clients with food and what to do with it, and doing our best to fight hunger. It will take all of us to make that happen. I look forward to meeting you soon, Ali! Thanks for the great question.
March 1, 2012at 3:18 p.m.
Are you working with any of the growers who will be using public land as part of the Common Ground project?
March 1, 2012at 2:12 p.m.
Jeremy_Farmer
Marilyn, hello! We have been in talks with the Douglas County Food Policy Council and even written several letters of recommendation for the program to continue to receive its funding. I'm sure we will be working with the growers with Common Ground, but those conversations have not taken place as of yet. I am confident, however, that we will be able to see those things through, and those who are a part of that program will donate the excess to Just Food. I don't see any reason why that wouldn't happen, and everything has pointed to a collaboration with that program. It's another opportunity for people to give, and I am excited about that for our clients & partner agencies!
March 1, 2012at 3:21 p.m.
Moderator
Thanks Jeremy for taking time to participate in this chat. We appreciate it!
March 1, 2012at 3:22 p.m.
Jeremy_Farmer
Thank you for having me, and thanks to all those that asked questions. Anything I can do to be of service, or answer any additional questions, please don't hesitate to let me know. You can reach me at 785.856.7030 or via email: jfarmer@eckan.org
Thanks to all those in Douglas County who are fighting hunger with us. Together, we can do it!
March 1, 2012at 3:23 p.m.
Jeremy_Farmer
Thank you for having me, and thanks to all those that asked questions. Anything I can do to be of service, or answer any additional questions, please don't hesitate to let me know. You can reach me at 785.856.7030 or via email: jfarmer@eckan.org
Thanks to all those in Douglas County who are fighting hunger with us. Together, we can do it!
March 1, 2012at 3:23 p.m.