Experts offer tips to help runners stay healthy while training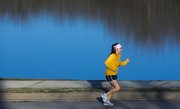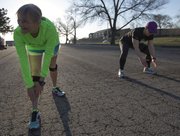 Snow is melting and more people have been lacing up their running shoes. With the Kansas Half Marathon coming up April 21, runners have been preparing for the event, as well as other running events for the warm seasons.
"Every spring, as soon as weather is nice, suddenly there are runners everywhere, but by fall they're not running anymore," runLawrence member Shannon Hodges said. "You get really excited, do more than your body is ready for, and that's a setup for injury and burnout."
Hodges is a USA Track and Field-certified running coach. She said properly preparing for a race takes more than just running for a couple of weeks prior to the big day.
Race preparation varies depending on the level a person is starting from.
Hodges said for new runners the standard is at least 6-8 weeks to prepare for a 5K to cross the finish line, or if a person is training to be competitive, it's about that same amount to cut time.
"I always say start out low and slow," Therapy Works physical therapist Audrey Welch said. "Don't go out and think you have to run your mile in eight minutes. When first starting a training program, you want to slowly work yourself into it."
Avoiding injuries
For people starting a running program, injuries are always a possibility. Welch said in order to stay healthy, a person must take preventative steps.
"The No. 1 and most important thing is hydration," she said. "The more hydrated your body is, the better function of systems."
Stretching is also important. Welch said it is more important to stretch after a run than beforehand because after a person runs is when their muscles are more loose.
An important part of running and injury prevention is wearing the right running shoe for a person's stride and biomechanics.
"Go to a running specific store," Hodges said. "They will fit you for a shoe that is right for you … don't go to Kohl's and find the shoe on sale — that's where injury starts and is prevented is with good shoes."
A running shoe can be used anywhere from 300-500 miles until it needs to be replaced. Hodges suggests estimating how many miles a person runs in a week, how many weeks it will take for the shoes to wear out and writing the date on the tongue of the shoes to easily track when it is time for a new pair.
"The stress and impact can change the support of shoe, and over time as you become a more efficient runner, you may need a different shoe," Hodges said.
It's also important to remember that the running shoes are a financial investment and, though they're OK in the gym, running shoes aren't meant for everyday use.
If a person doesn't take care of his or her body and use the correct equipment when training, injury can occur.
One common injury is iliotibial band syndrome, which is associated with increased running or distance. The person tends to have tight bands that can flare up and cause pain in the knees.
Some other injuries are tightness in the plantar fascia, which is on the bottom of the foot, and patellar tendonitis, which is inflammation of the tendon that connects the knee to the tibia. Shin splints can be associated with increased distance running or training on different surfaces, and often people get general muscle strains.
Welch suggests that for any injury to be sure to rest, ice it, use compression such as a knee brace, elevate the injury when possible to decrease inflammation.
Welch said that when a person has discomfort that makes them want to stop the activity, it's time to see a doctor or physical therapist.
It's for everyone
As long as a person is properly training, Hodges said, running can be for everyone.
"For a lot of people, running has a connotation of being a punishment, but it's really a matter of finding your pace, your level, and gradually adding that time or distance," Hodges said.
After a person finishes high school or college, they don't typically get to compete in athletics because they don't always have a sports team to join. That's what Hodges said sets running apart from other athletic activities.
"It's unique in that it gives everyone the ability to be a competitive athlete because you can always compete with yourself," Hodges said.
She stressed for new runners to be patient in making progress and to be flexible and adjust a running schedule rather than to allow weather conditions or injuries to ruin a runner's training.
Hodges said to make running an activity you enjoy by finding what elements you like about running, like listening to music or running on trails or streets, and doing what is right for yourself.
"If running should be anything, it should be pleasurable," Hodges said. "It should be something you want to do every day."