Gift to help put 'name and face' to cancer care
Teresa Walsh knows the importance of quality cancer care, having watched her father fight the disease at Kansas University Hospital.
Years later, she and her husband, Tom, a 1980 KU graduate, are helping to advance cancer care in the area, giving $2.5 million to the KU Cancer Center's nurse-navigation program, the hospital announced Monday.
Nurse navigators help cancer patients with everything from making appointments to emotional support. The Leawood, couple's gift will allow the hospital to hire five new nurse navigators, each specializing in a different form of cancer.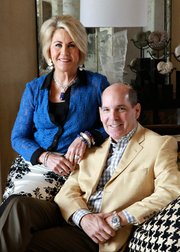 "It puts a name, a face and a person behind the experience at the University of Kansas Cancer Center before they even step foot in here," remarked Physician in Chief Terry Tsue, who said the program is helping the facility become a model for National Cancer Institute-designated centers nationwide.
This isn't the first time the husband-and-wife entrepreneurs have given to the KU Cancer Center. They founded the patient-navigation program with a $2 million donation in 2011. Because of the success of the initiative, the hospital decided to expand it.
The navigators are usually oncology nurses who have suffered from that specific form of cancer themselves. Tsue said that personal experience helps relieve anxiety in patients.
Nurse navigators are with patients from the time they are diagnosed, organizing their medical information so doctors can make the best possible decisions about their care, Tsue said.
"As soon as you hear the word 'cancer,' you forget everything else," he said. Nurse navigators are there to listen, he added, providing a vital link between doctor and patient.
The KU Cancer Center plans to hire 10 specialized nurse navigators and hopes to eventually have enough on staff so that every patient has one.