Young parents learn to lean on each other at support group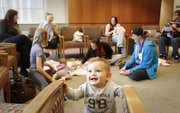 Ashton Walker was in an energetic mood. On a recent day at the Lawrence-Douglas County Health Department, he crawled on the floor, lifted himself onto chairs and played with a ball.
As the Young Parents Group neared its end, 15-year-old Alli Lane got her baby ready to go. Ashton, ever the explorer, started climbing into her car seat. His mom and dad didn't notice, so 21-year-old Amber Calfy kneeled down and tried to distract the little Lewis and Clark.
"Come here, buddy," she said.
In the past six months, the parents have become so close they treat one another's babies like their own. They share their insecurities, their secrets and their fears in the hopes of becoming the best mothers and fathers they can be.
There are many support groups across the country for young parents; Lawrence and Free State high schools have them, but only for students. What makes this one unique is how it got started.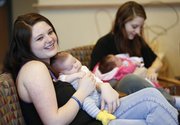 Strangers become 'family'
Last year, Douglas County social worker Mandy Gwirtz was making home visits to a few young parents when they expressed their desire to connect with other inexperienced moms and dads. Gwirtz thought it was a great idea; because she's in her 30s and doesn't have children, she knew she could only relate to them so much.
Thus, the Young Parents Group was born. Since its first meeting in October, a core group of attendees has emerged, helping one another navigate the challenges that come with parenthood at the same time they're trying to steer themselves into adulthood.
"I do feel like it's family," Gwirtz told the group at its six-month-anniversary meeting earlier this month. "There are a lot of stereotypes in our society about teen parents. It is awesome to watch you put those stereotypes to rest."
For example, not all teen parents stop getting an education, said Alli, a freshman in high school. Not all young fathers are deadbeats, said 20-year-old David Ward. And youthful moms and dads don't all party and drink, said 18-year-old Emily Rader.
By even forming the group, the parents dispelled one myth: that young child-bearers don't take an active role in raising their kids, leaving it their own parents or the government to do it for them.
Dispelling pregnancy myths
When she first heard about the Young Parents Group, Alli didn't want to go. She's just not one for opening up to people she doesn't know. But she decided to take a chance and move outside of her comfort zone, if only twice a month. While she was standoffish at first, she eventually opened up, to the benefit of herself — and her fellow young parents.
The group taught her some important lessons about pregnancy. For instance, when she started coming, she was dead-set against epidurals and breast-feeding. But she ended up getting the pain-reliever shot during labor, and breast-fed her baby, 7-week-old Annabelle Lane, at the recent meeting.
For Alli and the others, the gatherings have brought into focus what really matters in life. No longer does breaking a nail or being blown off by a high-school crush seem like a big deal. The young parents simply don't have time for the endless drama and gossip that mark many people's high-school years.
"Having a kid brings everything into perspective really quickly," said 20-year-old Ashleigh Lottinville.
Experiencing firsts together
At a meeting earlier this month, group members arrived, one by one, and immediately started trading babies and sharing their latest war stories.
"She's a good baby, until it comes to nighttime," Ward said of his newborn, 11-day-old Heidi.
"You cut the umbilical cord, right?" 20-year-old Zach Walker asked.
"Yeah," Ward said.
They posed questions like "What was your favorite toy as a child?" or "Do babies have dreams?" before getting into more pragmatic topics, such as how to overcome stress.
"I just scream into a pillow," Alli said. "It works for me."
"How do you guys deal with screaming with crying babies in the car?" Gwirtz asked.
"Mickey Mouse," Walker said.
As a group, the parents have gone through many firsts together. They share their anxieties about them, the way the events made them feel — all because of how comfortable they've grown around one another. Even the babies seem more relaxed during group, not least of all their elder statesman, Ashton.
At the recent meeting, the 9-month-old chewed on a ball, tried to play with other babies and made screechy baby noises.
He also attempted to walk. He would stand up, put his arms out to steady himself, and waddle until his wobbling brought him to his butt. One time, though, he stayed on his feet … and stayed on his feet … and …
"That's the most steps he's taken," said an elated Walker.
At the Young Parents Group, it's like father, like son: both reaching milestones — not on their own, but with other people who know exactly what they're going through.