Brain injury support group helps sufferers, caregivers to deal with disconnect
It's been 10 years since Lawrence resident Steve Smith was in the car accident that left him with a traumatic brain injury.
Smith had been battling an alcohol addiction when he decided to drive home from Kansas City after he'd been drinking on July 14, 2003. While driving his Ram 1500 truck, he hit a curb and the back end of the truck went over an embankment.
The truck flipped over and Smith was ejected from the vehicle.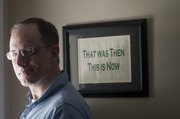 Smith had broken ribs, shoulder and pelvis bones, and was in a coma. After waking up, it was apparent that physical and mentally, Smith was never going to be the same.
"I was shipped to Minneapolis to do traumatic brain injury recovery for about six months, and after that I came back to Kansas and continued (cognitive, speech, physical and occupational) therapy," Smith said.
Smith's accident caused a number of changes to his mind. He has to wear glasses with a prism because the damage to his brain causes him to see double. He had trouble controlling his movements, especially on his right side. His fine motor skills had to be completely relearned.
A former pilot and captain in the U.S. Air Force, Smith said that before his injury, he considered himself to be mentally sharp and physically fit. Accepting the changes was extremely difficult, and for awhile Smith felt isolated and dealt with thoughts of suicide.
"Here I was, this pretty-able person before, fairly strong intellectually and physically," Smith said. "The change, the loss from the injury; my intellect was definitely impaired and physically, too."
Dealing with disconnect
Natalie Donovan, a cognitive therapist at Minds Matter, said for those who suffer from a brain injury, feeling isolated and frustrated, the way Smith felt during his initial recovery, is common. That's why Smith and Donovan, as well as a few other Lawrence residents, decided in January it was time to start a support group in Lawrence to help people connect and cope with brain injuries.
"It helps them in going through a new normal and figuring out their place after the injury," Donovan said. "Too often families are in survival mode and it's hard to reach out to people (and ask for help) when you're just surviving."
The Lawrence Brain Injury Support Group meets once a month and is meant for both the person who suffers from the injury and their caregivers. The way people got their injuries and the extent to which they're affected vary from person to person.
Some of the people who attend the support group have a brain injury from multiple concussions or from falling and hitting their heads. Others were in traumatic accidents; one man who attends was hit by a train.
Sharron Witters, one of the founders of the group, became a caregiver for her husband Lynn eight years ago. He had a heart attack and the lack of oxygen to his brain caused damage. She said after the injury, she had trouble networking and finding people who could relate to her situation or give her advice.
"I was so desperate for other people to talk to, and there was really no way for me to access other caregivers," Witters said.
Witters and her husband began attending support groups in places like Kansas City or Paola, and Witters started to realize how therapeutic it was to share her frustrations and joys with others who were going through the same thing.
"We all have vastly different stories and yet it's just wonderful to be able to have this open communication from all walks of life, all different stories, and we all share that common bond … there are so many similarities and it's so fascinating," Witters said.
At the Lawrence support group, there are sometimes speakers and typically the meetings all start with socializing and as one large group. About halfway through, the people with the injuries and the caregivers separate, forming their own groups to exchange advice and share information or situations.
Smith said that initially, one of the hardest parts of dealing with a brain injury is coming to terms with the future and accepting that life has changed, and the group is a way to help one another to do just that.
"There are ways to move forward," Donovan said. "You just have to take that first step, and we can be that community for people with brain injuries."
The group meets from 6:30 p.m. to 8 p.m. the second Friday of every month at Lawrence Wesleyan Church, at 3705 Clinton Parkway.
For more information, contact the group coordinators at lawrencebraininjurygroup@gmail.com.