For people with ALS, partners become primary caregivers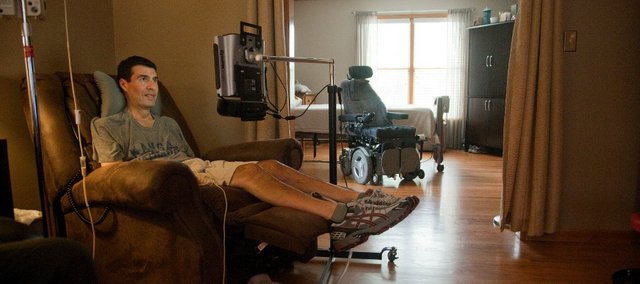 (Editor's note: This is the second in a two-part series about what it takes to keep someone with amyotrophic lateral sclerosis, or ALS, living at home and other challenges that come with being severely disabled.)
Hiram Salvini was always extremely driven, a type-A personality to the max.
The Lawrence man built a successful printing company. He pushed his body to the limit, through exercise and bicycle racing. He constructed his own house, and renovated an older one in the country, the kind he and his wife, Michele, had always dreamed of living in.
Four years ago, as the last of their four children was about to graduate high school, the Salvinis, who had been a couple since the age of 14, were ready to be empty-nesters: to go traveling, to live out their twilight years the same way they started — together.
Then the muscle twitches started — and the paralysis in the feet — followed by the worst news imaginable: Hiram had amyotrophic lateral sclerosis, or ALS, a neurodegenerative disorder that slowly takes away the body's ability to move while keeping the mind intact.
"We cried for the whole first year," Michele says. "I have no recollection of literally almost everything that happened that first year."
Now, instead of racing bikes, Salvini sits in a recliner, much skinner than he once was, unable to eat or speak on his own, pictures on the wall of his healthy self a reminder of happier times. He communicates by blinking at a digital keyboard, a small camera recording his responses, like an iPad for the eyes. He uses the device to do everything from change the channel on the TV to check in on his business.
"It will take a few minutes to compose what I want to say," Hiram says on a recent day, in his computerized voice, "so you may be on to another subject when I reply, and you may not know what the hell I am talking about."
ALS has taken a lot from Hiram — just not his sense of humor.
"Check yourself before you wreck yourself," he tells 21-year-old hospice aide Anthony Alaniz Jr., an example of the near-constant joshing that goes on between the two.
After Hiram's diagnosis in 2009, Michele vowed to take care of him by herself. The couple had always worked for themselves and built what was theirs. And Michele was worried about the privacy she'd be giving up. So she cared for her husband alone, feeding him, lifting him in and out of bed, bathing him. It started to take a toll.
"It's hard to watch someone taking care of someone you feel like you should be taking care of, but it gets to the point where it's too much," Michele says.
A couple of years ago, she brought in outside help, and created her own private space, upstairs, where she can get away when the home care aides stop by.
Hiram and his wife, who are both 50, believe the disease may have been caused by his drive to push his mind and body to the extreme. He was addicted to work, to bicycle racing, to fitness. When he was renovating his and his wife's dream house, he became obsessed; the disease came not longer after he finished. They never did get to move in.
The Salvinis have tried seemingly every treatment imaginable; some may have prolonged his survival. Most victims of ALS die within five years. However long he's around, Michele will be by his side, as difficult as that can often be.
"He's my best friend — but to not even be able to speak to your best friend," she pauses, "is hard."
A slow onset
For Kent Smalter, a former small-business owner in Lawrence, the symptoms came on slowly: muscle twitches, cramps, saliva in the windpipe. He was diagnosed with rheumatoid arthritis, but his condition only got worse from there. One day, he was reading an article in which physicist Stephen Hawking described living with ALS when Smalter recognized the symptoms as his own. He was already prepared for the worst when, in 2004, his doctor gave him the bad news. Smalter also believes his ALS may have been caused by stress.
The disease has progressed slower in Smalter than most, part of which he attributes to it being in his extremities rather than his spine, causing it to move slower and giving him more time to adapt to the paralysis. He was able to get his house ready, installing a wheelchair ramp, widening the doorways, modifying the bathroom fixtures. The slow onset also made the situation easier to accept on an emotional front.
"It's not like getting in a car accident," the 62-year-old says. "It didn't happen overnight."
Even after being diagnosed with one of the most debilitating diseases known to man, though, he had trouble getting public assistance. The ALS diagnosis moved him to the front of the Medicare waiting list, but Medicare doesn't pay for in-home care.
And to qualify for Medicaid, which does, Smalter had to liquidate his assets, including his business. It took him all of seven years to get in the program, and even then he had to hire a lawyer to assist him. She helped him with the type of "legal maneuvering," as he calls it, required to get many people with severe disabilities on public assistance.
"They treat you like you don't qualify, especially in the state of Kansas. They treat you like a criminal, like a scofflaw," he asserts. "If you can't live at home, a nursing home is your only option. It's a miserable situation."
Michele Salvini says that if her husband were in a nursing home, their insurance policy would cover it.
"It's cheaper to keep them at home, but they won't pay to keep them at home," she says. "The system is so skewed and so messed up. It doesn't make any sense."
The Salvinis pay for much of Hiram's care out of pocket.
"I don't know what we do if we wouldn't have built the company we built and it wasn't as successful, if we didn't have the money to do this ..." she says.
Another strong woman
Michele Salvini might recognize Angela Nascimento's story. For the first six years after her partner, Kent Smalter, was diagnosed with ALS, she cared for him all by herself. She put her own health in jeopardy in the process, injuring herself on multiple occasions. She was exhausted.
Friends and relatives heard about their situation and volunteered to help, hoping to give Nascimento a break. It allowed her to carve out a getaway spot above the garage.
She works two jobs to keep the couple afloat. Smalter's friends believe he could still a run a business using only his voice, but he can't work because it would disqualify him from Medicaid. He can't have much in the way of assets either, which is why he and Nascimento aren't married.
So who is this great woman behind a great-but-no-longer-able-to-care-for-himself man?
Nascimento came to Lawrence from her native Brazil in the mid-1980s, to study textiles weaving at Kansas University. She met Smalter after taking a part-time gig sewing awnings at his shop in downtown Lawrence. Years later, after both had divorced, they became a couple.
Nascimento, who speaks fast with a heavy Brazilian accent, remains his primary caretaker, his rock, his everything. Now that the couple have a care team of nearly 30 people, she only has to put him to bed by herself on Sunday nights. She shows her appreciation by preparing the helpers an occasional dinner, which is more than enough to keep them coming back.
"That's nothing compared with the satisfaction it gives us to help," says volunteer John Bowden, an old friend of Smalter's who assists in getting him up in the morning a few times a week.
Nascimento and Smalter are like any couple in a long-term relationship. There are ups and downs. If anyone says a disease like ALS doesn't put a strain on a relationship, they're lying. But when you truly love someone, you stay by their side. Nascimento does, constantly giving him emphatic kisses — "muah, muah" — and telling him she loves him.
"If she wasn't there, I'm not sure what would happen to Kent," Bowden adds.
That's a thought Smalter doesn't want to entertain. During a recent interview that lasted more than three hours, the only time Smalter cried was after he was asked what he would do without her.
"I cannot even think about the consequences of Angela ... not having her support would be overwhelming at best," he says, tears streaming down his face, his paralysis preventing him from wiping them off. "It'd be impossible."
"This whole thing's been extremely difficult for her," he adds. "She's nine years younger than me. She could be out having a real life. It's a huge obligation. This whole thing is a hugely difficult test of her meddle every day."
Not that it's been easy for Smalter. The psychological challenge of losing the ability to move while your mental and intellectual capacities remain is one the rest of us hope we never have to face. How does he do it?
"If you're going to become morose about the situation and dwell on it, you're going to become even more miserable," he says. "Life is what you make of it — that's my general philosophy. A person can be unhappy or happy. It's more up to the individual than circumstance."
Smalter adds, amazingly enough: "Life is good, it turns out."