A promised move to Lawrence helped save cancer patient's life
About the series
This is one in a series of stories about survivors of cancer provided by Lawrence Memorial Hospital's Endowment Association. These survivors' stories and photographs hang in the hallway leading to LMH's Oncology Center. These stories offer hope to patients being cared for at LMH Oncology and their families.
As we sit down in the home Harold and Mary Lake have shared since moving back to Lawrence in 2008 — a move the couple agree saved Harold's life — Lake shares his journey from diagnosis to remission of non-Hodgkin's lymphoma.
Lake's story starts in 2007, in Boston. He was at a conference with Mary and decided to take a trolley ride.
"Mary loves to walk and I wanted to take a taxi," Lake said laughing. But Mary won, and they started walking the six blocks to the trolley.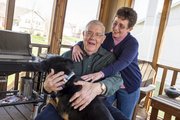 About halfway to the trolley, Lake started feeling pain in his neck and upper back. He knew it wasn't anything to do with his heart, but he was afraid it might be his lungs. The former funeral director had been a smoker but had stopped in 1986.
When he got back home to Arkansas City for his regularly scheduled doctor appointment, he knew he needed to talk to his doctor about his symptoms.
"It scared me enough, I had to tell him," Lake said. His doctor decided that it had been awhile since he had an X-ray and decided to go ahead and get a picture of his heart and lungs just to be sure. The X-ray came back OK, and his doctor decided to do a CT scan, which came back abnormal requiring a biopsy.
On a Sunday night, as Lake and Mary sat down to watch their favorite television show, his doctor called with the news: Lake had non-Hodgkin's lymphoma and needed to start treatment right away.
"I said, 'Sure. What do we need to do?'" recounted Lake. Later that evening, he looked at Mary and said, "I'm going to take you back to Lawrence as quick as I can get you there." That was a promise Lake made before they got married in 1997, and Mary agreed to move to Arkansas City from Lawrence.
Once Lake completed his first round of chemotherapy in Winfield, he sold his funeral home, and he and Mary were on their way to Lawrence by September 2008. "I'm going to tell you, that is the best move I've ever done," he said smiling. "It brought me to Lawrence, close to the hospital and close to Dr. Stephens." Dr. Ronald Stephens became Lake's new doctor, and he continued with routine maintenance, checkups and care.
"You couldn't find a better doctor, and the staff is so friendly," reflects Lake. Lake was on his second trip to LMH Oncology Center when Judy at the front desk said, "Hi, Harold."
"I couldn't believe she had already put a name with my face on my second visit," he said. Lake had to come into LMH Oncology Center every six months for four treatments of Rituxan to help keep his disease in check.
Lake continued in good health until May 2012, when he noticed his oxygen levels were off, and he ended up in the hospital with a large amount of fluid behind his lungs. This is when he met hospitalist Dr. Charles Yockey and cardiologist Dr. John Hiebert.
Lake vividly remembers a moment when he was sitting in an exam room with Dr. Hiebert and he suggested that they call Dr. Yockey to get involved with Lake's care. When Dr. Hiebert was on his way out of the room to call Dr. Yockey, he turned to Lake and said, "You've come to the right place. We are going to get you well." And that sealed it for Lake and Mary. They knew that their move back to Lawrence was the best move they could have made.
Lake had stopped taking the Rituxan and had switched to a different drug called Bendamustine to help shrink a lymph node causing the fluid buildup in his lungs.
"It literally almost killed him," Mary said. "We were calling children in from Florida to come home." During Lake's two-week hospital stay, they discovered that he wasn't getting rid of carbon dioxide when he would breathe. Dr. Yockey quickly got him on a airway pressure machine, and once that happened, things started to change for Lake. His oxygen levels were stabilizing.
The fluid behind Lake's lungs was in such large quantities (about 2.5 liters when a person should have about 2 tablespoons) that he would have trouble breathing. By the time it was over, Lake would have 22 thoracenteses (a procedure to remove the fluid), a new doctor/patient record for both him and Dr. Yockey.
One day when Lake went in for a regularly scheduled thoracentesis, Dr. Yockey was all smiles. He showed Lake an X-ray on the computer, and not only was the fluid level low but also the lymph node behind his lung had reduced in size by about half.
From that point on, Lake was much better. The Bendamustine, the same drug that they thought was killing him, shrank the lymph node and caused a reduction in the fluid build up.
"It did work," Mary said. "But it almost killed him."
"You hear great things about hospitals, but I can truly say if we hadn't made the move back up here to Lawrence, I probably would have died," Harold Lake said. "Nothing compares to LMH. The nurses are great, and the staff is friendly and they are all here to help," Lake said. Lake also credits Mary, his wife of 16 years, with helping him through his diagnosis and treatment.
"She puts up with me," he said. "She's 96 percent angel and 4 percent pit bull. She's always there to make sure I take my medicine or take me to the hospital."
Now, Lake goes back to see Dr. Stephens every three months. "At first, it was monthly, and then he lengthened it out to two months and I got a little paranoid," Lake said. "But Dr. Stephens said let's go another two months, and everything looks great."
Non-Hodgkin's is not curable, and Lake said there is always a worry in the back of his mind.
"You used to hear (the word cancer) and everyone thought instant death," he said. "There have been great strides medically, and if you are proactive and see your doctor and keep on top of it, then you should be fine."
One thing that Lake thought about when he was diagnosed was that he wanted to be able to see his grandchildren — and he has, all 12 of them, including newly born twins.
"Here I am. I'm just going to stay here until the good Lord says 'OK,'" Lake said smiling.