Important time of year to make sure car seats are installed properly
Tuesday, December 10, 2013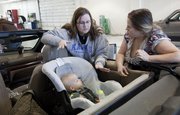 It's the holiday travel season, making it as good a time as any to ensure your child's car seat is installed properly.
Parents in Lawrence have a number resources to get their car seats checked. Lawrence Memorial Hospital and Safe Kids Douglas County offer several safety seat inspection events per month. Parents install their seats ahead of time, and certified inspectors make sure they did it properly.
"Car seats save lives. They're a form of immunization. They dramatically reduce the injury and death rate among children when used properly," said John Drees, community education specialist for Lawrence Memorial Hospital. "You want to make sure you're securing your child in a proper car seat every time you ride."
Around the holidays, people are traveling with their young children, often in snowy, icy conditions, so it's all the more important that car seats are installed correctly. Drees also recommends that people secure their cargo, such as presents and suitcases, so it doesn't fly around during an accident and injure passengers.
More and more people seem to be getting the message about car seat safety, Drees said, as the generation that has kids nowadays grew up riding in car seats. This may be one reason the local childhood safety coalition does about half as many inspections as it did more than a decade ago. Also, seats are now easier to put in cars — since 2001, hooks placed in the back seat of every motor vehicle allow for simpler car seat installation.
Still, roughly 75 percent of child car seats are installed incorrectly, according to the National Highway Traffic Safety Administration, while accidents remain the leading cause of death for children younger than 14. Douglas County has a below average mortality rate for youngsters in car crashes, and was ranked first in car seat usage in Kansas last year, according to the state Traffic Safety Resource Office.
The most common problems local inspectors run into are the seats not being installed securely enough and the children not being buckled in snugly enough. When a car seat is installed properly, it won't be able to move more than an inch in any direction; if it moves too much, try retightening it.