Praeger still working to make health care reform succeed in Kansas
Monday, December 30, 2013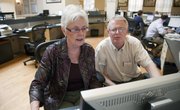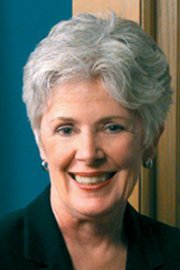 When the national health care website got off to a rocky start following its rollout in October, Kansas Insurance Commissioner Sandy Praeger was helpless to do much about it. Later, when it was reported that only a few hundred of the 370,000 uninsured Kansans had signed up for coverage that month, she wasn't surprised, either.
Things might have gone differently had Praeger had any say in it. In early 2011, the Lawrence Republican began to develop a state-based website for Kansans to purchase insurance under the Affordable Care Act, aka Obamacare. That plan was dashed when Gov. Sam Brownback sent back a federal grant to be used for the site's implementation. Instead, Kansans would have to go to the federally run marketplace at HealthCare.gov.
Despite opposition to the law among many in her political party, Praeger has been trying to make sure one major goal of health care reform succeeds: getting more people insurance. Her department created a website, InsureKS.org, where Kansans can explore their new insurance options. She and other staffers have traveled the state to explain how the law works. And her office is helping outreach workers in Kansas to make sure the have they have up-to-date information.
Expanding access to care has long been an issue of importance to Praeger, a founding member a quarter-century ago of Lawrence safety-net clinic Health Care Access. "You cannot get sick in our country today without insurance," she said in a recent interview. "We know, for instance, that the death rates for women with breast cancer are significantly higher if you don't have insurance because you don't get early detection. You don't get the kind of treatment that people with insurance get. It's just wrong. It's just wrong."
Linda Sheppard, director of health care policy and analysis for the Kansas Insurance Department, said that while attending a recent meeting of the National Association of Insurance Commissioners it became clear that few states opposed to the law have been as proactive in their Affordable Care Act outreach as Kansas.
"I think what little we've been able to do in the state is largely a result of Sandy's leadership," said Sheldon Weisgrau, director of the Health Reform Resource Project in Kansas. "There's no more respected voice in the state on these issues."
Praeger, 69, is preparing to begin the final year of her third term as insurance commissioner and what she says will be her last in politics, ending a career in public service that started on the Lawrence City Commission in the 1980s.
On the issue of health care reform, Praeger has bucked much of her party by being outspoken in favor of the Affordable Care Act (though she admits it's a lot easier to do when she no longer plans to run for public office). But she says it's difficult not to have a larger role in instituting the biggest expansion of health coverage in decades.
While the law was being debated, insurance regulators spoke before Congress to encourage lawmakers to let states run their own health insurance websites, or exchanges. But political opposition to Obamacare grew to the point where Praeger wasn't even shocked when the governor returned that $31.5 federal grant.
"Taking that money doesn't mean we would have necessarily had a successful exchange," said Burdett Loomis, a political science professor at Kansas University, noting that states like Maryland and Oregon have run into trouble with their websites. "That said, we're a small state, and with the aggressive participation of Commissioner Praeger, I think there was a very good chance we would have a had a pretty strong exchange."
More surprising to Praeger was the governor and Legislature's decision not to participate in the law's Medicaid expansion. Because of the way Obamacare was written, that leaves residents between 32 percent and 100 percent of the federal poverty level ineligible for subsidies at HealthCare.gov. Praeger estimates that applies to about 70,000 Kansans, many of whom she says will continue to rely on the emergency room for health care. "I think eventually we're going to have do Medicaid expansion," she said. "Members of our state Legislature are going to start hearing from upset constituents."
Despite the initial stumbles, Praeger believes health care reform will eventually succeed and be looked at one day in the same light as Medicare and Social Security, which she noted also faced opposition at first. For now, Praeger plans to ride off into the sunset at the end of next year (at least from Topeka to Lawrence) and join her husband, Mark, a Lawrence physician, in retirement.
Not that she'd want to run for office again. Besides believing she would have trouble getting through a Republican primary for insurance commissioner, Praeger believes the political environment has gotten way too toxic.
"I've been asked a lot, Why won't I run for governor? I don't want to do what you have to do to win today. You have to run negative ads, and we've never done that," she said. "Now, I feel like I can retire and look back on a career and feel proud about it."