Students jump into heart health education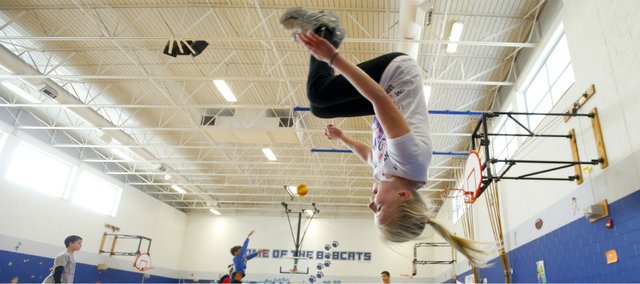 Tuesday, February 12, 2013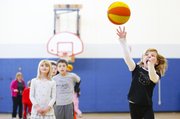 During physical education at Langston Hughes School, P.E. teacher Reenie Stogsdill has her students jog two laps around the gym before sitting in lines.
Stogsdill uses February, which is American Heart Month, to remind her students how lucky they are to be able to take that quick run at the beginning of class.
Langston Hughes students participate in the American Heart Association's Jump Rope for Heart and Hoops for Heart, two programs to promote heart health and raise heart disease awareness.
This month, students will watch a video about heart disease and how children with heart problems struggle, share heart health facts at the beginning of class and have a special P.E. class designated to jumping and basketball activities, such as long and short jump ropes, springboards, pogo sticks, knock-out basketball and 3-on-3 basketball games.
"(I) emphasize that we're very lucky we have a strong, healthy heart, and now they need to keep it that way," Stogsdill said. "(The video) made them realize not everyone can just come in here and do the things they do without thinking about it."
Although it isn't required, the students are encouraged to help raise money through the Jump Rope for Heart and Hoops for Heart programs by asking for donations.
"It's an awareness event," Stogsdill said. "We don't push the fundraising but have lots of people who know it's important."
Langston Hughes School raised just more than $2,200 for the American Heart Association.
Why is a healthy heart important?
Dr. Roger Dreiling, a cardiologist at Lawrence Memorial Hospital, said when a heart is unhealthy, it stops functioning and a person dies — but sometimes the problem is that the heart doesn't stop functioning, and the person's quality of life goes down because they're limited in what they can do.
The American Heart Association said that in 2009 there were about 788,000 deaths from cardiovascular disease. The number of deaths in 2009 from every type of cancer combined was 568,000.
That's 220,000 more deaths from heart disease than all cancer types.
The American Heart Association works to raise awareness of cardiovascular diseases, research and write guidelines for treating the heart, raise funds to support heart health research and offer educational opportunities for the community, such as classes about cooking, exercising or CPR. By doing this, the organization hopes to prevent Americans from developing a heart disease and help the people who may already have it.
"Be proactive about your health and be in tune with your body," said Stefani Spainhower, an ambassador for the American Heart Association.
Spainhower was diagnosed with congenital heart disease at age 29 and was a heart surgery survivor by age 31. She said part of her experience was learning that heart disease doesn't just happen to older people and it is important to be proactive in preventing heart problems.
Signs of a heart disease include shortness of breath, being easily fatigued, muscle aches, palpitations and decreased physical stamina.
Dreiling said that oftentimes people think they're getting old and so they're not able to run as far or work out as long as they used to, but it could actually be heart disease.
"We don't want people to be hypochondriacs … but if symptoms are persistent, they should be brought to (a doctor's) attention," Spainhower said. "If you're worried, don't be afraid to ask for a cardiologist or specialist."
Aside from eating healthy and exercising, visiting the doctor on a semi-annual or annual basis is also a way to prevent heart disease. Dreiling suggests that, starting at age 30 if not earlier, people get their blood pressure checked at each check-up and getting cholesterol checked at least once a year. It is important to start to consistently check blood pressure and cholesterol because it is easier to make lifestyle changes at age 30 than it is at age 60.
Spainhower said the American Heart Association is a great resource for people wanting to learn more about heart disease, and she encouraged the community, especially younger people who may not feel as at risk, to educate themselves and try to stay as healthy as possible.
"You're responsible for your own body, and prevention is key," she said.
For more information on the American Heart Association and heart disease, visit heart.org.