Strike a pose: Yoga practices available for wide variety of interests, skill levels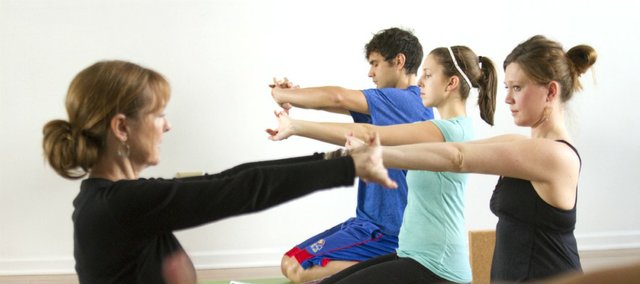 Some people turn to yoga for an invigorating physical workout. Some want a spiritual experience. Some have serious physical limitations. Some want to do it with a friend.
For all those people, and virtually everyone in between, there's a yoga class in Lawrence.
With the increasing popularity of yoga has come an increasing number of specialized classes being offered in Lawrence's numerous yoga studios: kids, prenatal, hot, Hatha, Yin, Vinyasa, gentle, Iyengar, Kundalini, restorative, ailment-specific — and the list goes on.
Melissa Arthur, a managing partner at Westside Yoga, 4935 Research Parkway, said the right yoga class for you will fit your own unique goals, abilities and personality. You should feel like the class really benefits you — and ideally you'll look forward to it.
"Going to yoga should be a treat," Arthur said.
Most studios and some athletic clubs offer more general yoga classes for students of various levels. Here's a guide to a few of the more specialized classes in town.
Somebody to lean on
You're not alone in the Acro Flow class at OmTree Shala, 1405 Massachusetts St. In this partner yoga class, you'll support and be supported by someone else. The studio describes the class as a physical art focusing on three fundamental experiences — union with oneself, the healing art of touch and the exchange of trust.
"It kind of brings up that childlike spirit within all of us, when we weren't afraid to trust," studio owner Sharyn Harley said.
OmTree opened in September, and its first partner yoga class drew some romantic couples, some friends and some people who came alone and paired with other solos in the class, Harley said. The new Acro Flow class, which began this month, aims to be a more "dynamic" version of last semester's class.
Hot, hot, hot
If you like it hot, Bikram yoga's for you. Bikram Yoga College of India, 711 W. 23rd St., heats its studio to 105 degrees for every class, making for one sweaty — and, proponents say, deeply detoxifying — experience.
Deep breathing in the hot environment helps warm the body from the inside out, and pretty much everything you've got becomes more pliable, said Mark Kramer, a longtime Bikram practitioner and one of the studio owners. People don't get injured like they do in colder spaces, he said.
But more than the heat makes this form of yoga unique. Bikram offers the same 90-minute class, with the same 26 postures, in the same order, multiple times a day, seven days a week. The postures have been strategically sequenced to offer the most healing benefit to the body, Kramer said. A number of students attend five or more times a week.
Contrary to popular belief, Kramer said, Bikram yoga isn't just for advanced students. Beginners and veterans practice side by side, resting whenever necessary.
Obviously, it's critical to drink lots of water before, during and after a Bikram class. In addition to your mat, take a beach towel (did we mention you'd be sweating?).
Just breathe
OmTree Shala's Kundalini Yoga class is almost entirely breath work.
"It's a great class for people who want the benefits of yoga but are really physically limited," Harley said. Examples might include someone with a serious physical injury who would be unable to engage in traditional yoga movements.
While it may appear easy to an outsider looking in, the class is intense, Harley said, explaining that the instructor-led, highly controlled breathing "moves a lot of energy" and is both physically and emotionally calming and cleansing.
Senior-specific
The Yoga for Seniors class at Westside Yoga targets just what 55-and-older students need.
For one, there's a lot of individualized attention that aims to meet every student right "where they are," Arthur said. Also, it's gentle and keeps the focus on strength, flexibility and balance.
Flexibility is important to preventing injury and helping the body stay resilient as it ages, Arthur said. Many class movements are designed to target stabilizing muscles that are critical for balance but tend to break down as the body ages.
A meditative state
The meditative yoga class at Westside Yoga is designed for students seeking mental escape or spiritual enlightenment.
Usually led by candlelight, the class involves a series of gentle yoga postures designed to prepare the body for still, quiet relaxation and reflection, Arthur said.
Some students seek this type of class for stress management, Arthur said. They need a break from their fast-paced, multi-tasking lives to "check in" with their bodies and nurture themselves. For others, meditation has a spiritual objective, she said. It helps them develop awareness, become open to other possibilities and tap into their "authentic" selves.
In keeping with the open vibe, the class is offered on a donation basis.
Yin and yang
Instead of the major muscles a typical yoga class awakens, Yin yoga focuses on stretching and strengthening connective tissue, bones and joints.
In OmTree Shala's Sacred Yin Flow class, props are used as needed to support the body in a variety of simple postures, Harley said. Then students hold those postures for extended periods of time, up to five minutes or more, and that's where the class becomes challenging.
"It's great for all types of people just to slow down and kind of hang out with the different sensations in your body," Harley said.
While OmTree Shala's class includes more movement than a traditional Yin yoga class, Harley said, the core principal is the same. It takes — or for many people, teaches — discipline.
Restorative yoga, such as the Deep Restorative class at Westside Yoga, is similar in that poses are held for long periods of time. But restorative poses are fully supported by props, making for a more passive experience.
"It's not a workout as much as it is an opportunity to relax very deeply," Arthur said.