'Culture of health at work' benefits employees and employers alike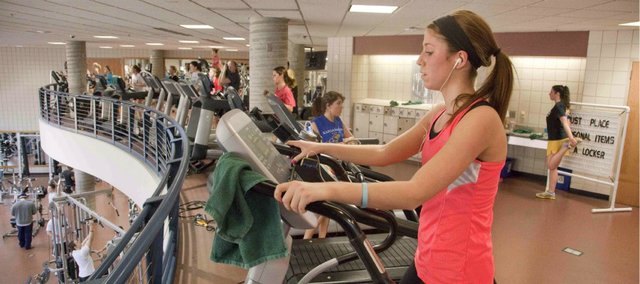 Tuesday, January 29, 2013
WorkWell Lawrence
Employers interested in joining WorkWell Lawrence can attend monthly meetings from 8 a.m. to 10 a.m. the second Thursday of each month at the Douglas County Extension office at the Douglas County fairgrounds, 2110 Harper St.
Health care costs are on the rise. WorkWell Lawrence says health expenditures are estimated to reach $4.1 trillion by 2016.
With Americans spending at least half of their waking hours at work, WorkWell Lawrence coordinator Carolyn Crawford says healthy lifestyle encouragement and programs at work are now a part of doing business.
"One of the highest expenses of an employer is salaries; the second or third highest is health insurance," Crawford said. "Those costs have been going up or trending at a unsustainable rate. We can't keep (up with) these rising health care costs … so businesses are stepping back and saying, 'We need to go back to our employees.'"
LiveWell Lawrence is a community health initiative funded by the Kansas Health Foundation. It is a coalition of community members who look at all facets of health and wellness in the city. The group offers grants to different organizations, which is how WorkWell Lawrence was created.
The premise behind WorkWell Lawrence is to help employers come together to talk about how they promote health for their employees and to "cultivate a culture of health at work."
The organization has a monthly meeting where it brings in a local speaker to educate the group of employers and HR representatives from businesses in the community.
"It helps (employers) to share ideas and support each other and get each other the contacts they need to get," Crawford said. "The talk about what's working and what's not working."
WorkWell Lawrence also hosts a symposium each fall and helps, through WorkWell Kansas, to fund grants to local businesses to promote work wellness.
City initiatives
The city of Lawrence is one employer in Douglas County that is taking major steps to improve the lifestyles of its employees. It has a health and wellness committee, City of Lawrence Health Activities Management Program, or CHAMP, which was developed to make sure health programs for city employees were initiated.
The committee administers and oversees initiatives and programs, attends seminars and webinars about employee health, networks with other businesses and brainstorms as a team.
"We care about our employees and their health, and we want them to be productive at work and to be able to be here 10, 15, 20 years down the line," said Ryann Pem, city of Lawrence recruitment specialist and CHAMP chairwoman.
The city opened an off-site health clinic at Lawrence Memorial Hospital in 2011 for its employees and dependants. It's called the WellCare clinic and is the city's major employee health initiative.
"By implementing a clinic like this, it's not only helping the overall health of our employees, but our health care is less likely to suffer with expenses later on," Pem said. "It's preventative care."
The center offers services like health assessments and check-ups as well as experts to help employees with quitting smoking or losing weight.
As a way to encourage employees to take advantage of the clinic, the city began an incentive points program this month. Workers are eligible to receive points for health and wellness activities they complete such as eye exams, dental cleanings and check-ups, health assessments, quitting smoking and exercising. The points are then turned into dollars that turn into reimbursements into their health care accounts.
"It kind of ties in back to the clinic, back to the health care plan," Pem said. "It allows them to earn rewards for taking steps to improve their overall health. If they're more health conscious, in the long run we have healthier employees."
The city also offers a free counseling service, discounts through park and recreation for exercise-related activities and discounted fitness club memberships. Other wellness initiatives the city participates in include Walk Kansas and Weight Watchers at work.
"We're really trying to be innovative to come up with things employee can do to either earn them an incentive or make them healthier and happier," Pem said.
KU collaborates
Kansas University uses what director of human resources Ola Faucher refers to as a collaborative approach.
"We do not have one office on campus responsible for employee wellness, but several offices on campus collaborate to support the concept," she said.
The recreation center offers staff and faculty special rates, and departments such as psychology offer services to employees of the university.
There are also programs offered by the state, and Faucher said departments often work together to sponsor activities such as walking at lunch or Weight Watchers at work.
Crawford said part of an employee's incentive to participating in health programs at work is reduced health premiums and catching health issues before they become chronic or escalate to less time at work and high costs for employers.
Implementing incentives
Although money is a driving point in many businesses providing wellness programs, having healthy employees in the workplace isn't all about how insurance plans will be affected.
"(That's) a really big deal, but programs allow people to participate and receive a lot of health improvements which can improve behavior, it reduces sick time, and if (employees are) happy and healthy, they're more likely to be at work and to be productive at work," Pem said.
Wellness programs at work don't have to cost employers extra money. The key for businesses looking to encourage employees to get healthier is to have employees take advantage of free resources around the city such as health fairs or showing employees the value of health.
"(Employers) need to start being the example, and it will really pay dividends," Crawford said.
Crawford said a way to do that is to have employees stand and stretch before meetings or to encourage them to bring healthy food to share at work rather than junk food like chips or sweets. She also suggested ideas such as having a bowl of fruit for employees rather than a vending machine and buying employees reusable water bottles to encourage them to drink more water.
"That's the advantage of WorkWell Lawrence," Crawford said. "There are a lot of resources out here that they can use that won't cost them money."