Uninsured cancer patient also a victim of bad timing
Dawn Villarreal-Nutt is a victim of bad timing.
She recently bought health insurance after years of going without it, even getting it for the full-time employees at Game Nut, the Lawrence video game store she owns with her husband, Gene. All she had to do was wait 90 days for the coverage to kick in. What could possibly go wrong in 90 days?
How about everything.
In late March, Villarreal-Nutt was eating beanie weenies she had made for her granddaughter. They didn't sit well in her stomach, giving her indigestion and pain that didn't seem normal. Still, she was reluctant to get medical attention, after hearing stories of people racking up huge medical bills and then coming to find out all they had was gas. But the pain eventually grew too severe to ignore, so she went.
Within two hours, Villarreal-Nutt was in emergency surgery at Lawrence Memorial Hospital, where doctors removed a baseball-sized cancerous mass along with about foot of her colon.
"It's been a long month," said an exhausted Gene Nutt, sitting next to his wife's hospital bed more than three weeks after they arrived. Complications from surgery had added to Villarreal-Nutt's stay. She also had to undergo a procedure to have an infection removed, putting her in the intensive-care unit for a week.
If Villarreal-Nutt is guilty of bad timing, her punishment is tens or perhaps hundreds of thousands of dollars in medical bills.
Dawn's friend Crystle Dennison, who met Dawn because their partners play in the same softball league, has started an online fundraising campaign at YouCaring.com, aiming to lessen the emotional and financial blow her friend has been hit with at the worst possible time.
Local business owners
Gene and Dawn moved to Lawrence from Topeka nearly a decade ago, bringing Game Nut with them. The retail outlet did so well the Nutts opened a second location, on Iowa Street.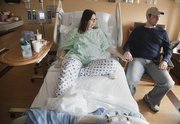 Self-employed, the Nutts were priced out of the private health insurance market. They made sure to get routine checkups; Villarreal-Nutt paid out of pocket to get blood work done each year like clockwork. But colonoscopies aren't advised for people under the age of 50, after which 90 percent of colon cancers occur; Villarreal is 47. (Doctors are uncertain what caused her affliction but surmise it could have been brought on by smoking cigarettes, a habit she kicked 15 years ago.)
Through the expansion of their business, the Nutts eventually got enough employees to qualify for a discounted group insurance rate. They just didn't get it in time.
Once Villarreal-Nutt's insurance policy fully kicks in, in July, she will be partway through her six months of chemotherapy treatments. Most of the spending — up to hundreds of thousands of dollars worth — will already have taken place.
Gene joked that he planned to ask the hospital staff to give him the bill before he left. "That way, I'm close to the ER," he said.
Besides the online fundraiser, the Nutts intend to sell T-shirts promoting colon cancer awareness (possible slogan: "Just scope it"). They also plan to apply for the hospital's charity program, and pay as much out of their pockets as possible.
"We want to do the best we can," Gene said. "But we don't want this to bankrupt us and lose our business on top of it."
Villarreal-Nutt is home now, awaiting the start of chemo and medical bills to begin piling up. The Lawrence resident may just have had exquisite timing after all. If she hadn't found the cancer when she did, she might not have the opportunity for the full recovery her doctor expects her to have. She'll even be able to eat beanie weenies with her granddaughter again.