Lawrence students learn that healthy snacks can taste good, too
Monday, November 18, 2013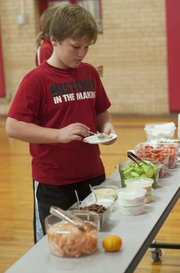 Not only did several dozen kids eat fruit, vegetables and whole-wheat pitas and hummus on a recent day at Lawrence's Liberty Memorial Central Middle School. They went back for seconds. And thirds.
The lesson: Don't underestimate children. Many of them have more expansive palates than you'd think. Sometimes you just have to introduce them to healthy foods.
That was the goal of Michel Loomis, a retired teacher and volunteer coordinator of Smart Strength, an after-school fitness and nutrition program in its fifth year at Liberty Memorial Central.
"When they see this stuff and eat it, then they begin to internalize what's good and what isn't. I can talk to them — 'You shouldn't eat processed food' — and I can show them what processed food is," she said. "But it's just better to have them try the food that's good for them. If they eat it, they're going to remember it."
In the face of high childhood obesity rates, Smart Strength is one of a number of efforts in Lawrence — school gardens and LiveWellLawrence's Healthy Kids group are some others — to get kids eating healthier.
On a recent afternoon, Nancy O'Connor, director of outreach and education at the Merc Co-op, prepared a Middle Eastern-themed snacking session featuring pita bread, carrots, tomatoes, cucumbers, almonds, satsuma tangerines, hummus and tzatziki, a yogurt-like dip.
"Don't be afraid of the vegetables!" O'Connor said, as some of the students skimped on them. "I never see a first-time rejection as a loss. I see it as a victory.
"Kids think food comes out of windows," she added. "It is not easy to change habits and it takes patience. I think sometimes we underestimate the ability of kids to change."
People in general are becoming more aware of the benefits of eating healthy, local foods, O'Connor noted.
"But the obesity rate in Kansas doesn't make us happy," she said. "This is how we change it: experience. Kids have all the talking heads they need. When Liam tries the hummus, he tells his classmates, 'This is good.'"
She was talking about Liam Elliott, 11, who said he's had a change of heart (stomach?) since sampling the nutritious eats at Smart Strength.
"At home, I would have a bag of chips or some cookies. My mom was always saying, 'Eat a banana,'" he said, munching on tangerines and carrots. "When you think of vegetables, you think, 'Eww, they don't taste good.' I never knew the stuff would be this good!"
It's exactly the type of response Loomis hoped she would get after recently deciding to expand Smart Strength's snack offerings (the cafeteria previously provided the treats). She approached several restaurants about providing healthy, tasty food to the children. Besides the Merc, other businesses that agreed to participate include TCBY, Wheatfields Bakery and Hilary's Eat Well.
"I used to think these were gross," said Thomas Richardson, 12, holding up a few almonds. "When you try it, it's really good."
"This is great — look at his plate," O'Connor said, pointing to one whose contents resembled a rainbow of sorts. "We like when people try one of everything.
"This is the second or third trip for some of these guys," she added, as an eager group of boys stood in line at the snack table. "So what do you like?"
"Hummus!" they all said at once. "And the tzatziki," one of them added.
"If you put this in front of them, they'll say, 'This is pretty good,'" noted Jackie Stafford, a Central teacher who helps with Smart Strength. "If you only give them a healthy choice, they'll eat the healthy choice. If I put candy out, they'll eat candy, because they're kids."
After enjoying the snacks, the middle schoolers started warming up for their workout. As the students trekked from one end of the gym to the other, Kassidie Womach, 12, stopped by the snack table to grab a few additional carrots for herself and a friend. Another couple of kids followed.
"Can we get some more tomatoes?" they asked.