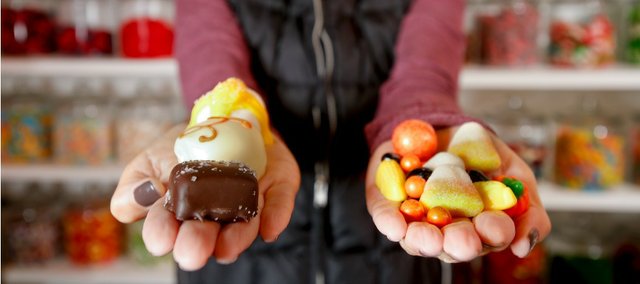 Tuesday, October 22, 2013
Are all Halloween treats created equal, from a nutritional perspective?
While it might be a stretch to call candy and other sugary snacks "healthy," some sweets do have less calories than others.
Experts in the fields of both sweets and nutrition say it's best to eat candy that, like Starburst or Skittles, doesn't contain a lot of fat. That could make a difference when, according to the National Retail Federation, the average consumer is expected to spend $22 on candy this year.
"You're going to have more fat content in chocolate," said Michelle Miller, owner of Mass Street Sweet Shoppe in Lawrence, amid a sea of sugary smells in the downtown store on a recent day. "If you're going to eat candy, things like gummy candies and hard candies have less calories and fat."
The local sweets store has other options for health-conscious people this Oct. 31, including popcorn and candy apples, which at least have some nutritional value, especially compared with items like truffles and cookies.
If you are a chocolate fanatic, you'd be smart to go with a Three Musketeers, which is among the least fattening candy bars on the market, said Marty Glenn, a lecturer of nutrition at Kansas University. He also noted that there are many sugar-free candies available nowadays (though hand them out to trick-or-treaters at your own risk).
Glenn pointed to some other options for people looking to give out or eat more nutritious treats this Halloween: Fruit Roll-Ups, Fig Newtons, juice boxes, 100-calorie packs of snacks like cookies or crackers, or even non-food items like bubbles or Play-Doh (distribute these to trick-or-treaters at your own risk, as well).
Kids might be able to get away with consuming excess calories on All Hallows' Eve, because of their faster metabolism, but they shouldn't let it become a habit.
"What's happened is it's Halloween every day," Glenn remarked, citing the national rise in obesity rates among children. "Years ago, maybe these kids would have eaten sweets right around Halloween and not had as many the rest of the year."
On the bright side: At least trick-or-treaters will be getting some physical activity going door to door as they collect their Halloween goodies later this month.