Visiting Nurses Association transforms through 45 years in Douglas County
Tuesday, February 11, 2014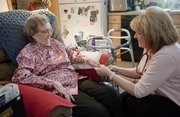 Anniversary open house
Celebrate Douglas County Visiting Nurses Association's 45th anniversary with an open house from 4-6 p.m. Wednesday at its office, 200 Maine St., Suite C. For more details, call VNA at 785-843-3738.
Lucy Seaver and Julie Baldwin have become fast friends.
Baldwin, a nurse with the Douglas County Visiting Nurses Association, knows all about Seaver's late husband, Clarence, her dog, Secret, her grandchildren and great-grandkids.
Even though the two were thrown together out of necessity just a few short months ago, Baldwin has become crucial to Seaver's life. Baldwin comes over to the 93-year-old's Lawrence apartment a few times week, to take her vitals, manage her medications and even just listen.
Over the past 45 years, numerous relationships like Baldwin and Seaver's have formed in Lawrence, thanks to the work of the Douglas County Visiting Nurses Association. In that time, the organization has morphed from a home health care agency with a handful of employees to a nonprofit that offers a variety of services with a staff of 115 and 60 volunteers.
Lynn Rothwell founded the Visiting Nurses Association in February 1969 after seeing a need in the community for home health care, something that was then more common on the East Coast, where she grew up. VNA eventually became something more all-encompassing. It began providing hospice care to end-of-life patients in 1981. It signed a contract to provide medical services at the Douglas County Jail in 1995, the same year it implemented its CareLink emergency notification program. It expanded to Topeka three years ago, opening a home care branch in the capital city.
"From what we started with to what we are today is quite different," said Cynthia Lewis, the current CEO of Douglas County Visiting Nurses Association. "We went from a very small home health program that did about 2,500 visits in its first year to a program that provides in-home care all through people's life spans with more than 50,000 visits last year."
And with an aging baby boomer population and more people than ever expecting to stay at home till a long age, VNA will continue to play a vital role in the community for some time to come.
The agency also helps patients transition out from the hospital to home and not be readmitted. It offers bereavement services and support, including to families. It accepts patients regardless of their ability to pay, even if they're on Medicaid or don't have any kind of health coverage at all.
What would Rothwell have thought of what the agency has become?
Rothwell, who died in 2005, did have a chance to visit VNA's offices, which fill the third floor of the Community Health Facility, 200 Maine St.
"She was amazed and in awe of what she was seeing," noted human resources manager Janice Johnson White, the agency's unofficial historian.
In the future, Lewis says she wants the organization to find a way to pay for patients who don't meet Medicare's requirements of being "homebound" but could still manage to stay at home. She would also like to one day offer a standalone palliative care program for terminally ill patients who aren't yet prepared to discontinue treatment and enter hospice.
An example of VNA's work
Seaver hooked up with VNA last fall like most patients do: through a referral from her doctor. Baldwin started stopping by a few times a week, to help treat Seaver's health conditions from home.
Eventually, Seaver's doctor decided that she had less than six months to live, a result of regular strokes and other conditions. So Baldwin switched into hospice mode: managing pain, making life as comfortable as possible for Seaver.
Seaver lost her husband, Clarence, in November 2010, a few months after the couple's 70th anniversary. "I really would just as soon be dead," she said on a recent day in her apartment, an addition onto the back of her daughter's home. "But I've got to stay around to be strong for my granddaughter," who was recently diagnosed with cancer.
Not long ago, after Seaver kept startling whenever she woke up, someone suggested she go to bed hugging a lamb stuffed animal.
"People often say, 'How do you feel?'" said Seaver, clutching the fluffy doll while being engulfed by her big brown recliner. "How is a 93-year-old supposed to feel?"
Baldwin tries her best to help Seaver feel better, either by administering pain medication or, more often, just being a shoulder to lean on.
"You make the last part of their lives more comfortable," Baldwin said. "They do become like family."