Lawrence health coaches change clients' lives, one bad habit at a time
Tuesday, January 21, 2014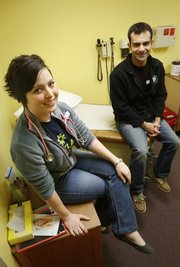 Julie D'Auteuil talks to her clients about things like their breakfast routine, how often they stretch and the quality of their sleep. She's not a doctor, a social worker or a personal trainer. She's a health coach.
Health coaches help people improve their lifestyle choices, setting goals in areas like nutrition and exercise; some also make sure clients are following through on the advice of their traditional doctors. Their popularity is part of a shift in health care to a more holistic, coordinated approach, as well as a growing awareness of how poor health habits contribute to high rates of chronic disease in America.
"I love giving people back to themselves," said D'Auteuil, who recently moved to Lawrence from Topeka and works as a front desk manager at Kansas University. She is currently certifying to be a health coach through Villanova University so, as of now, her services are complimentary.
D'Auteuil started down the path toward health coaching after recognizing how unhealthy our society was becoming and people's seeming obliviousness to the causes.
"We'd lost our way somehow," she said.
D'Auteuil encourages clients to pay attention to those small, daily decisions — she calls them "choices in the moment" — that can have a big effect on their overall health: what they eat and drink, what medications they take, how much they move around.
"Stop what you're going to do, challenge yourself and choose differently," she tells them.
Slowly but surely, she says, they will begin noticing a difference. Then, she hopes, they'll be encouraged to make a lifelong commitment to being healthy.
"People don't know how sick they are until they start feeling better," she said.
Providing accountability
At Lawrence Memorial Hospital's WellCare Clinic, which serves local employer wellness programs like the city of Lawrence, health coaches work with patients on objectives like lowering their blood pressure and cholesterol, losing weight and eating healthier. Then they follow up to track their progress.
"A lot of people just feel like they need some accountability," said Lorelei Witt, a nurse practitioner and health coach at the WellCare Clinic. "It helps them when they know they have to report to somebody."
Witt said she's seen the biggest improvement among patients in their lab results. Those positive changes usually motivate them to continue with their healthy lifestyle habits, even if they have yet to see any difference in their dress or pants size.
The clinic's director, Greg Windholz, attributes the interest in health coaches to the rising cost of medical care in recent years.
"Dollars spent on health care are going up, and diseases associated with an unhealthy lifestyle are a big contributor to that," he said.
Tips from a health coach
— Eat breakfast within 30 to 60 minutes of rising to get your metabolism going. "Just like you put gas in your car, you've got to fuel your body," said Lawrence health coach Julie D'Auteil.
— Avoid white, processed foods, including sugar, bread, pasta and rice. "White is not right."
— Eat every 2.5 to three hours (or six small meals) to keep your body energized throughout the day. "Amazing things start happening once the body knows it's going to be fueled."
— Instead of exercising all at once after work, be more active throughout the day, including using your break time more wisely. "Do 15 minutes of stretching here, 15 minutes of walking there."
— If you sit in front of a computer all day, do stretches that counteract that, like standing in the corner of a room, putting one hand on each wall and stretching your chest muscles forward. "It opens up your chest, reduces the chance for carpel tunnel."
— Stay in the stretching position longer. "Hold your stretch for 30 seconds before you release — then see how much further you can go."
— Pay better attention to your body; rather than simply masking pain, identify the root cause of it. "The symptom is the symptom because it's trying to tell you something."
Finding what works
Aynsley Anderson, a Lawrence health educator who's earning her wellness coaching certification through the Mayo Clinic, helps people identify their strengths and what's work for them in the past, setting goals based on that. Realistic goals, that is.
"Oftentimes, people come in: They want to lose weight, they want to start exercising, they want to stop smoking, they want to manage stress — they want to do it all at once," she said. "We know all too well that's probably not going to happen."
Sue Westwind, certified holistic mental health coach in Lawrence, assists patients in changing daily habits, particularly nutritional choices, that might be contributing to poor mental health. For example, she encourages them to stop eating allergen-laden foods like gluten or dairy. She refers them to Natural Medical Care of Lawrence or KU Integrative Medicine in Kansas City, Kan., for detailed dietary screenings. She recommends nutrients, like magnesium and Vitamin C, that she says can act as natural antidepressants.
"Coaching is a different paradigm than therapy. We look at what's right with a person and what their strengths are and go from there, while therapy tends to look at what's wrong," said Westwind, who got into holistic mental health coaching after she says natural medicine cured her own anxiety and depression and lessened the symptoms of her daughter's autism. "Coaches stand more beside the patient as a support person rather than above them as medical professionals sometimes do. It seems like a more grassroots form of healing than a hierarchal one."
A holistic approach
Lawrence's Heartland Community Health Center emphasizes a holistic approach to medicine, including having two health coaches on staff. AmeriCorps members Samantha Freeman and Sirus Saeedipour work with patients on diabetes care and prevention, encouraging them to adopt healthier habits. They set goals — eating carrots instead of potato chips, exercising for 30 minutes a few times a week — then check on patients to make sure they are following through.
"It has a significant impact on patients' wellbeing," Freeman said.