Breastfeeding abounds in Lawrence thanks to support groups, LMH
Tuesday, January 28, 2014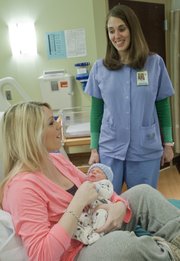 Dominic Morrison was a lazy sucker.
While the newborn could latch onto his mother's breast just fine, he wasn't able to draw much milk out. So, on the advice of some local lactation consultants, Angela Morrison used formula and a supplemental nursing system to teach her infant son how to get her milk supply moving.
"Now at 4.5 months, he nurses like a champ," said Morrison, 28, a stay-at-home mom who lives in Lawrence.
But without the initial support, Morrison says, she likely would have given up on breastfeeding. She met with lactation consultants at Lawrence Memorial Hospital. She spoke to breastfeeding counselors in the Women, Infants and Children office at the Lawrence-Douglas County Health Department, where she also attended the Breast is Best Social support group, or BIBS. She even first found out about the breastfeeding resources available locally because her husband happened to have an appointment one day next to the Pregnancy Care Center of Lawrence.
Lawrence has an abundance of resources for breastfeeding mothers, part of the reason the community has such a high rate of nursing moms. About nine out of 10 mothers who deliver at Lawrence Memorial Hospital try to breastfeed, compared with 73 percent statewide (the national average is 76.5 percent). LMH recently became the first hospital in the state to be designated by the High 5 for Mom & Baby program, which encourages practices to improve breastfeeding rates.
"We feel very lucky," said LuAnn Baumchen, a nurse in the Lawrence Memorial Hospital birthing center. "Our parents are educated enough to know breastfeeding is the best thing for the baby, so they give it a whirl, and we're here to provide that support along with the other community resources that are available."
Cheaper than formula
Breastfeeding is encouraged by medical professionals nationwide as the healthiest, purest source of nutrition for infants. It's also cheaper and causes less waste than using formula, a year of which costs about $1,500. The American Academy of Pediatrics recommends feeding babies only breast milk for their first six months of life.
Benefits for newborns include a heightened immune system and decreased risk of obesity, asthma and high blood pressure later in life, while pluses for moms include a lower chance of developing breast and ovarian cancer, heart disease and postpartum depression. Advocates also point to the bonding between mothers and infants that breastfeeding breeds.
But not all moms are able to nurse. They might take certain medications that are harmful to babies, be unable to produce enough milk, or have had a prior breast surgery that affects lactation. Young mothers often have difficulty juggling breastfeeding and school. And some children are, for one reason or another, never able to latch or suck properly.
See related article
Even moms who do breastfeed often stop when they go back to work, because they might not have time or a location to pump milk while on the job (the Affordable Care Act, which required insurers to start covering breast pumps and lactation counseling, also says that employers must supply break time and a place for workers to express breast milk).
"I feel like moms are under quite a bit of pressure nowadays: Everyone is telling them they need to do this thing that's healthy, but they're not always given the tools to be successful at it," said Cary Allen, a WIC breastfeeding counselor at the Lawrence-Douglas Health Department. She encourages employers to be flexible in scheduling for nursing moms returning to work.
Time an issue
Keri Prichard, a psychologist in the Lawrence school district, has recently been transitioning back into full-time employment, four months after the birth of her daughter, Audrey. She feels lucky that, one, she's been successful in breastfeeding (with an assist from LMH's nutrition consultants and Monday support group) and, two, that she has a job that allows her to pump milk.
"Parenting and being a good mom is more than just breastfeeding — if it doesn't work, that's OK," said Prichard, 32. "A lot of times in our society people feel breastfeeding is best, and the people who give it up are judged, and I don't think that's fair to them, either."
But mothers often quit on breastfeeding for fixable reasons, experts say. They might wrongly think they're not producing enough milk or just get frustrated with the process.
"You don't want to tell people it's going to be hard or impossible," said Melissa Hoffman, a breastfeeding educator at Lawrence Memorial Hospital. "But you do want to give them an impression of the hurdles and how, so often, with the right help, they can work through them."
Hospital practices have a lot to do with how many moms in a given community successfully breastfeed, said Karen Wambach, an associate professor at the Kansas University School of Nursing. A 2010 study led by Wambach found that breastfeeding support significantly improved the duration of time in which adolescent mothers in that community nursed.
At Lawrence Memorial Hospital, the birthing center no longer gives out free samples of formula to parents. That means the hospital has had to start providing its own diaper bags, something the formula companies used to give out for free.
The hospital got its High Five for Mom & Baby designation by utilizing the following five practices: sustained skin-to-skin contact between mother and baby immediately after birth; no fluids for newborns other than breast milk unless medically necessary; "rooming in" for moms and newborns 24 hours a day; no pacifiers or artificial nipples for nursing infants; and providing new mothers information on breastfeeding assistance available in the community.
Volunteer support
Support doesn't have to come solely from hospitals or other community organizations. Partners and other family members play a big role in helping new moms succeed at breastfeeding, experts say. And lactation educators are often just mothers who struggled with nursing themselves and subsequently had to seek out support.
When Melinda Toumi's third child was born prematurely and had difficulty feeding, she started attending the local chapter of the La Leche League for help. She later began volunteering for the group and is now an accredited leader for the La Leche League of Lawrence.
"Many of us, when we become parents for the first time, have never seen a baby eat the normal way, so it's pretty tough to incorporate something into your life that you've never seen," said Toumi, 34, a Lawrence business owner, adding: "Mothers are more informed than ever nowadays, but sometimes they need a little reassurance."
The moral of the story, says new mom Andrea Allen: Stick with it.
"It's not easy, and it does take time and effort. But for us, it was definitely worth it," said Allen, 27, a part-time day care worker from Lawrence. She got help from the lactation consultants at LMH and a local breastfeeding support group after her now 4-month-old son, David, initially had trouble latching.
"Just because it's hard doesn't mean you should give up."