Curvy yoga designed for people of all shapes and sizes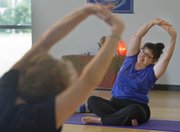 For most of her life, Caryn Mirriam-Goldberg wasn't a big fan of yoga. "Whenever I did it, I felt like throwing up, to be honest," she said.
But after surviving breast cancer in her 40s, the Lawrence writer and teacher decided to give it another try. She worked with a local instructor, who taught her how beneficial yoga could be to the mind, body and spirit.
But even after Mirriam-Goldberg started teaching yoga in 2011, at the classes she never felt like she truly belonged. A couple of years ago she learned about curvy yoga — yoga for people of any body type — and last summer she became certified to teach it.
That's what she found herself doing on a recent night at Westside Yoga, 4935 Research Park Way, with a half dozen proportionally diverse men and women.
"For those of you here for the first time, curvy yoga is a type of yoga that's body positive for people of all shapes and sizes," said Mirriam-Goldberg, 54, in a calming voice, as relaxing Eastern music played in the background. "If you're like me, you've experienced walking into a gym and everybody's a size 2 and you wonder what the hell you're doing, and knowing you'll never wear white spandex in public."
She led the group through a variety of poses, cracking jokes and speaking honestly about her own features. She noted when a certain stretch might be hard for her because of the size of her belly or thighs. Her tone had a disarming characteristic to it, putting participants at ease.
She gave the students alternative stretches if a certain one was bothering them. She used props like blankets and pillows to assist people with the more difficult poses. But she didn't go easy on them; Mirriam-Goldberg's curvy yoga is just as challenging as any regular yoga class. It's just more "gentle," as participant Frank Schawaller put it.
"A lot of it is being mindful of who's here and what poses and what props work and what order of poses work best for whoever shows up," said Mirriam-Goldberg, who is one of only two people in Kansas certified to teach curvy yoga.
Last Wednesday night's session was the first yoga class Connie Reese had ever attended. And she drove all the way from her home in Lee's Summit, Mo., to do it.
"I always wanted to get in touch with me and get in tune with me and try something new," said Reese, 48, an account manager. "But I didn't want to go to all the places were everyone is a size 2. If I fell over, I wanted to be around like-minded people who knew why I was falling over."
She said she plans to return to Lawrence again for curvy yoga because she already saw results from the first class. By the end of the session, the headache she showed up with was gone.
"I always sleep well after I come here," added Joanne Hickey, 52, a Kansas University employee.
Retired teacher Sharon Dwyer has attended every curvy yoga session since Mirriam-Goldberg started offering it in the fall. She credits it with helping reduce her arthritic pain. She also loves Mirriam-Goldberg's teaching style; the former Kansas poet laureate reads poems at the end of every class.
"Caryn's class is the only one I've known in which show tunes are appropriate as background music for yoga. It has such an eclectic use of music and poetry," said Dwyer, 65, of Lawrence, adding: "It is just light and accepting, yet inspiring."