Lawrence couple turns to medical marijuana as lifeline for 2-year-old son
Wednesday, March 19, 2014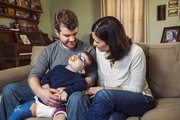 Reader poll
Yes

88%

566 votes

No

11%

76 votes
642 total votes.
The lower-body cast that 2-year-old Otis Reed has worn since breaking his right femur Feb. 23 is decorated the red and blue of the Kansas Jayhawks.
There's a lot of pride of place in that choice. His parents, Ryan and Kathy Reed, moved back to Kansas from New York City to be closer to their families. They bought and upgraded a two-story house in the Oread area of Lawrence, and Kathy started working for Kansas University, where she earned her undergraduate degree. Ryan, meanwhile, took a daily commute to Santa Fe Trail High School, where he taught speech and theater.
But now the couple's Lawrence house is empty and on the market. The young family has moved into the Baldwin City home of Ryan's parents, Donna and David Reed. If all goes as planned, Ryan and Otis will move to Colorado in May, while Kathy remains at her job as the manager of KU Policy Library's online presence.
Related: Couple's medical marijuana lobbying efforts find little support in Topeka
It's a tough decision for the couple. Ryan followed Kathy to New York because he "had a huge crush on her," but now they're planning to live apart. Why? Because they hope the medical marijuana available in Colorado will do what modern medicine's pharmaceutical arsenal has not — help control the hundreds of seizures Otis experiences each day.
Kathy and Ryan, who resigned from his job at the end of last school year to care for Otis and take him to his three-times-a-week therapy sessions in Kansas City, said a few of the 15 different medications their son has been prescribed since September 2011 have helped Otis for a short while. Others did little or nothing, and some even made the condition worse.
The result: a dead end.
"We never have a day without multiple seizures," Ryan said. "In the last year or so, he's never had a day without 100 a day, and most days it's 200 to 300 or more."
Related: Lawrence doctors split on benefits, risks of medical marijuana
His parents first noticed Otis' seizures when he was 9 weeks old. They are still in the dark about the root cause of the problem, despite consultations with neurologists at Children's Mercy Hospital in Kansas City and two of the country's top-rated pediatric neurological centers, Cleveland Clinic in Cleveland, Ohio, and St. Louis Children's Hospital.
"It falls under the umbrella of infantile encephalitis," Kathy said. "There's a malformation of one side of his brain. We don't know the cause of it.
"This is not something he'll grow out of, and it will progress unless we're able to solve it. He's not going to get better on his own."
Battling side effects
The constant seizures have left Otis developmentally disabled. He doesn't talk, walk or even crawl.
The mood-altering effects of prescription drugs also play a part in her son's delayed development, Kathy said. The drugs had other consequences, too. One powerful steroid dangerously enlarged Otis' heart, which returned to normal when he quit using it, Kathy said. Other medications have caused loss of appetite, extreme agitation, enamel loss on teeth and leeching of minerals needed for bone development.
That last side effect contributed to Otis recently breaking his femur when Ryan repositioned him after a nighttime seizure cluster.
"It was the worst sound I ever heard in my life," Ryan said.
With drugs offering no solution, the Reeds said they have two options. One is brain surgery, which has provided good results when doctors can locate problem areas. But that's not the case with Otis, Ryan said. His surgery would require removing some of the left hemisphere of the boy's brain and severing all connections between his two lobes. If that didn't work, a second surgery would remove the entire left hemisphere of Otis' brain.
The severity of the operation and its less -than-stellar odds of significant success have the Reeds looking for alternatives.
"They've told us the surgery has only a 50 percent chance of success," Ryan said. "Success could be reducing seizures by five a day. When he's having 400 seizures a day, that's not enough.
"Knowing there is another treatment out there, I don't think I could say take half his brain without giving this a try."
Leap of faith
With that prognosis, the Reeds are convinced the move to Colorado is the best option for Otis. It's a big step, and not one they are rushing into headlong. They made a trip to the state in December to complete the necessary paperwork and make the required two visits to doctors needed to procure a medical marijuana card for Otis. They placed their Lawrence home on the market to help finance the move.
Kathy will stay behind at first as they see how Otis responds to the marijuana treatment.
"We didn't want to uproot the whole family life support if this doesn't work," Kathy said. "My co-workers and everybody at KU have been very supportive."
Helping ease the stress of the move is the large online community of "marijuana refugees" who have relocated to Colorado for similar reasons, the Reeds said.
"They are a resource and a source of support — just knowing there are people out there who are going through something similar," Ryan said.
One of those is Dara Lightle. She moved five months ago to Colorado from Virginia with the hopes medical marijuana would help her 9-year-old daughter, Madeleine, whose cerebral palsy is complicated by seizures. Tests at Johns Hopkins University showed that in addition to visual "clinical" seizures, Madeleine experienced "sub-clinical" seizures 80 percent of the time while sleeping and for long periods of her waking hours.
The result: Madeleine's short-term memory was impaired, Lightle said. She never learned to read or mastered basic first-grade math skills.
Madeleine takes three doses daily of an oil extracted from marijuana, Lightle said. The oil is high in cannabinoids, a non-mind-altering ingredient in marijuana, and low in THC, the ingredient that gives recreational users a buzz.
With the medical marijuana therapy, Madeleine has had only two clinical seizures in recent months and is now reading and doing simple arithmetic, Lightle said. She will finish the first grade after being held back twice. In addition, she for the first time is retaining lessons learned in eyesight therapy and now has 20/20 vision, Lightle said.
This week, Madeleine will have an electroencephalograph, which her mother is convinced will provide clinical evidence medical marijuana has improved her daughter's condition.
Kathy and Ryan have seen EEGs other parents have posted online, showing profound changes in brain activity. That fuels their determination to make the move and the hope medical marijuana treatment will give Otis a better quality of life.
But they temper that with their experience of the past two-and-half years.
"It's easy to get caught up in the excitement of all the success stories," Ryan said. "Realistically, we're not expecting him to start running, jumping and dancing.
"But if he could walk, talk and interact with us and we could get to know him a little better, that would be so much more than he has now."