Middle school rallies behind coach fighting leukemia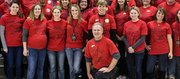 De Soto — It was shortly after a routine physical exam last October that Dave Anderson got the news nobody wants to hear: Something was wrong.
"Everything checked out OK, but the doctor noticed something different or funny from my blood results," recalled Anderson, a counselor and track coach at Monticello Trails Middle School, where he has worked for about 11 years.
More blood tests followed, as did a visit with a specialist at the University of Kansas Medical Center. Finally, a bone marrow biopsy produced the frightening results: Anderson had leukemia.
"You go through all kinds of different emotions and disbelief and a little bit of shock and worry," Anderson said. "I just thought I hadn't been feeling bad, hadn't felt extra tired or anything like that or sick or anything. So it was pretty shocking to get that diagnosis, and you kind of think the worst."
But his prognosis was positive, Anderson said.
"The doctor reassured me that there's still a lot of hope, and the medication, the chemotherapy that they have these days has been pretty effective with this type of leukemia that I have," he said. "So he gave me a lot of hope."
Related: A day in the life of chemo: Positivity is medicine, too
Still, there were some tough times ahead for Anderson. His course of treatment was an intensive, seven-day round of chemotherapy that was pumped into his system 24 hours a day. He said he felt fine during that week and could still go to work, "but the week or two after that, my system really crashed."
Anderson ended up at home for several days until a fever spike of 102 degrees prompted a weeklong stint at Saint Joseph Medical Center in Kansas City, Mo. During that time, Anderson would also have to undergo a blood transfusion that helped to "get me on the road to recovery," he said.
"That blood transfusion that I got really kind of helped boost my immune system a bit and made me feel a little bit better," Anderson said.
With assurances from his doctor that he was out of danger, Anderson was able to go home shortly after the transfusion.
He has been on the upswing ever since.
He had weekly check-ins with his doctor until just before Christmas break, when his doctor told him he wouldn't have to come back for a few months. That next check-up was earlier this month, during which Anderson received the news he has been hoping to hear since his diagnosis.
"The results are very good," he said. "I'm feeling good. So (my doctor) didn't call it in remission yet, but he said that we're pretty close and he feels confident that things are going in the right direction. So the chemotherapy I think has done its work."
It's not just the chemo, though, that got Anderson through these past months, he said. He credits the support he received from his wife and three sons and friends from church.
Then there's the outpouring of support from Monticello Trails staff and students, as well as the De Soto school district — from a home visit from Superintendent Doug Sumner to donations of home-cooked meals and restaurant gift cards from Anderson's coworkers.
Most recently, in January, students and staff at Monticello Trails organized a blood drive in Anderson's honor, during which 75 pints of blood and more than $700 were donated to the American Red Cross. Parents, staff, even two of Anderson's sons who were old enough, showed up at the event, in the school's gymnasium, to donate.
Organizer Jill Walton, who works in the school's resource room, said students also helped by making flyers, signs and escorting parents into the drive, as well as setting up prior to the event and cleaning up afterward.
"This was an amazing event to see how the staff, parents and students united to make the blood drive a huge success," Walton said in an email. "We will be planning another event next year and looking for an even bigger blood drive."
Anderson has been back at school for a while now and doesn't have to go back to his doctor for another six months. Of everyone who has rallied behind him, he said, "I couldn't have made it through those times without them."
"I think the biggest thing is you want to have a fighting spirit, you want to give it your all. But it's the support of people — the adults here at school, as well as the kids — (who) all got on board to really encourage me and support myself and family," he said. "That just kind of brightened not only my day and my spirit, but also my wife and my kids. They saw how others were coming to help.
"It just was kind of a total team effort and that I think has been a positive thing for me to see and feel all that from those that I know."