9 healthy meal options when dining out in Lawrence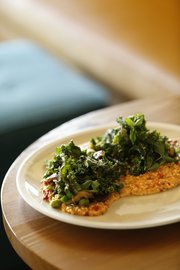 When people go out to eat, they don't always have their waistline in mind. But most, if not all, Lawrence restaurants have healthy options available for customers who are watching their calories closely.
We asked some of Lawrence's most popular dine-in spots what the healthiest meals are on their regular menus. Here's what they had to say:
1) Free State Brewery, 636 Massachusetts St.
Owner Chuck Magerl says that while the Lawrence brewery and restaurant serves several healthy dishes (including the beet nicoise salad, chopped salad verde, smoked salmon bruschetta, fresh fruit and cheese plate, hummus and avocado chimichurri), if he had to choose one it would be the basil ciabatta sandwich. On ciabatta bread from WheatFields Bakery Cafe, 904 Vermont St., the sandwich features basil pesto with local basil, creamy goat cheese, roasted red peppers and provolone cheese. It comes with a tossed salad, for which Magerl recommends the blue cheese.
"While I know some low-fat advocates would question that, I've always maintained that the flavor present in a modest amount of high-fat cheese or meat satisfies the desires and offers a fulfilling meal that minimizes the craving for more food that so often thwarts low-fat dieters," he said.
And, this being a brewery and all, Magerl recommends customers have a beer with their meal. He backs up that contention with science, correctly pointing to research showing that a beer or glass of wine a day has health benefits, when taken in moderation.
2) Pachamama's, 800 New Hampshire St.
Proprietor and chef Ken Baker said the restaurant's healthiest menu option is its vegetarian entree, the steel-cut heritage oat "risotto." The oats, a heart-healthy food, are a heirloom variety from South Carolina-based Anson Mills cooked risotto-style in vegetable stock and topped with Parmesan cheese, though that can be left off for vegan customers. The dish also features kale, a healthy leafy green, dusted with roasted sesame flour, also from Anson Mills. The house-made truffle almond milk is dairy-free and gives the meal a creamy component.
"There are lots of vitamins and earthy flavor derived from the local shiitake mushrooms, grown by Alan Terry at Oak Ridge Farms (near Baldwin City)," Baker added. "And the fresh garbonzos are an excellent source of protein.
3) Henry T's Bar and Grill, 3520 W. Sixth St.
These are the days when bar and grills need more than hamburgers and wings to survive, said owner M. Sean Gerrity. With that in mind, Gerrity said the healthiest item on his menu (and one of the most popular) is the sauteed basa, a light-and-flaky Vietnamese farm-raised catfish. The 7-ounce fillet is sauteed in extra virgin olive oil with a pinch of California garlic-pepper blend.
"It came about because right after we added the fried version to our menu, customers asked if they could get it sauteed or blackened instead," Gerrity said. "After a week of customers asking for the fish cooked their way, we added it to the menu and it's been there for seven years. "
Order it with the whole green beans or salad and you'll be doing what may have seemed impossible 20 years ago: eating healthy at a bar and grill.
4) Merchants Pub & Plate, 746 Massachusetts St.
Chef T.K. Peterson says health-conscious eaters should try his kale and white bean griddle cakes. It features cooked white beans, wilted kale and sun-dried tomatoes on a bed of roasted heirloom carrots and topped with fresh ricotta cheese, toasted almonds, carrot pesto and tomatillo chow-chow.
Peterson said the carrots are dry-roasted and don't contain a lot of oil, the tomatoes and kale are heart-healthy ingredients, and the dish doesn't have any added sugar.
"We have plenty of healthy items on the menu," he said. "They're not always the most popular, being a gastropub."
For calorie-counting beer drinkers, Peterson recommends the restaurants' pilsners, which are in the 120 to 130 calorie range, and said Scrimshaw Pilsner from North Coast Brewing Co. is a popular choice. He added that the gastropub's selection of ciders is another low-calorie option.
5) 715, 715 Massachusetts St.
For the health-conscious restaurant-goer, co-owner Matt Hyde recommends the grilled steak salad, which he says is high in protein, filled with local greens and topped with a house red wine vinaigrette dressing. It is also served with Maytag blue cheese, which Hyde said is high in protein and packed with flavor.
"Our steak salad is our most popular dish for people who are trying to lower their carb intake," he said.
6) The Jayhawker/TEN Restaurant at the Eldridge Hotel, 701 Massachusetts St.
Chef Nick Haxton says healthy eaters should go with the seared sea scallops, which come with roast corn quinoa, chorizo tomato jam and cilantro crema.
"Quinoa is considered a super food and scallops are a clean source of protein," he said, calling the dish "a source of pride for our restaurants and a favorite among our regulars."
7) Zen Zero, 811 Massachusetts St.
Subarna Bhattachan, owner of Zen Zero (as well as Genovese and La Parrilla), said healthy consumers should look to his menu's salad and vegetarian sections. He recommends the sauteed choy sum and spring roll salad but, choosing one option, would go with the mixed-vegetable stir fry.
"It has nine different kinds of vegetables and also locally made organic tofu, and comes with steamed rice instead of fried rice," he said.
8) Genovese, 941 Massachusetts St.
Bhattachan said the Italian eatery makes a special pasta fresca this time of year for customers watching their weight. It is penne pasta with olive oil, garlic, fresh basil and crushed pepper. He recommends pairing it with a spinach salad topped with strawberries, balsamic vinaigrette and locally made goat cheese.
9) La Parrilla, 724 Massachusetts St.
Bhattachan said the healthiest option at the Mexican restaurant is the mulatto chicken salad, which comes with marinated, grilled chicken breast, sauteed onions, bell peppers, mixed greens and jalapeno lime vinaigrette dressing.
Other options:
—Biggs BBQ, 2429 Iowa St.: turkey, steamed broccoli and small spinach salad.
—Burgers by Biggs, 4841 Bauer Lane: ground chicken (with zucchini) sandwich with a side salad.
—College Hill Pizza Pub at the Oread Hotel, 1200 Oread Ave: veggies, fish or other lean meats on vegan crust (gluten-free option available) with light cheese and pesto sauce.
Have a healthy menu option but don't see your restaurant's name on this list? Email gbruce@ljworld.com and we'll add it.