Popularity of midwives grows in Lawrence, nationally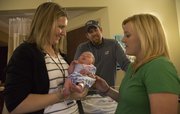 Two days after giving birth to her first child, Rebekah Cantrell looked refreshed. She was up and out of bed, smiling and talking to visitors. She said her delivery went "phenomenal." Baby Savannah was awake, too, squinting her eyes and wiggling her skinny toes.
Cantrell credited her good spirits to having a natural birth. She didn't get induced or take any pain medication during labor. She used a midwife instead of a doctor.
But to placate her husband, Ryan, she did it in a hospital setting, to have medical professionals and technology nearby in case of an emergency.
It's an option that's now available to women in Lawrence 24-7. A year and a half after adding its first nurse midwife, Lawrence Memorial Hospital now has three, meaning that one is always on call. Whereas in the past, women who wanted to deliver with a midwife at LMH may have had to use a doctor, that's no longer the case.
Popularity grows
Midwifery is no longer just the domain of crunchy hippie chicks. Midwives delivered 11.8 percent of all vaginal births in the U.S. in 2012, according to the Centers for Disease Control and Prevention. That number that has risen nearly ever year since the government began tracking that data in 1989.
While nine out of every 10 of midwife births occur in hospitals, midwives also commonly deliver in standalone birthing centers or people's homes. However, a recent study by New York-Presbyterian/Weill Cornell Medical Center that analyzed the CDC data found the risk of death to be greater when midwives delivered babies at home (12.6 deaths per 10,000 births) compared to a hospital setting (3.2 per 10,000 births).
In Lawrence, the rate of midwife births is significantly higher than the national average, local midwives say. From January through April, LMH ob-gyn signed up 65 women to be birthed by midwives, or about 15 percent of its total births, including a record 22 who are due in August.
"We're starting to see a significant shift," said LMH ob-gyn practice director Linda Easum. "We've had previous patients delivered by physicians who are choosing in their next delivery to possibly transition to midwifery. Our goal is just to treat the patient no matter what type of provider they want."
7 tips to relax and cut down on pain during natural childbirths
Get up and move around to help the baby navigate the pelvis.
Sit in a jacuzzi tub.
Turn the lights off.
Have your partner rub your back.
Sit on a birthing ball.
Change positions.
Try hypnobirthing, or focusing on the natural process that childbirth is rather than something to be feared.
Source: Lawrence Memorial Hospital nurse midwives
Benefits of natural births
The LMH nurse midwives, who each work under the supervision of a physician, help patients execute the birth plans of their choice. They have longer appointments than regular doctors because they spend so much time educating mothers about the birthing process. They also do well woman exams and contraception checks.
"I think the misconception out there is that our patients can't have epidurals or can't have medical interventions and we deliver our patients at home. That's not what we do here," said nurse midwife Karen Honn, who started at LMH in January. "We're here to help people have that natural birth experience in the safety of a hospital and have that backup there in case of an emergency."
Midwives say that letting babies come when they're ready cuts down on labor time and the risk of C-sections. "We don't induce our patients. We don't routinely break their water," said Honn. "Leaving the body alone and supporting what it is naturally going to do has been proven to give mom a better outcome and a lot of times the baby a better outcome."
"Labor pain releases excellent endorphins that are great for women's emotions," said nurse midwife Emily Fox, who started at LMH in March. "They're all on this high afterward, thinking, 'That was bad, but I did it. I can do anything.' It's a great way to start motherhood. You feel like you can conquer anything."
The midwives also say that women often psyche themselves out about giving birth before they even do it. "We live in a society of drama," Honn said. "We live in a culture where women share birth stories that are horrible. We don't have a lot of people sharing their fabulous birth stories."
"On TV and movies, you never see a good birth," Easum added. "People think that's the way it is because that's what you always see."
A positive birthing experience
The Cantrells recently moved back to Lawrence, the community where they met, when Ryan accepted a job with the Kansas University athletic department. Rebekah knew she wanted a natural birth; Ryan, wary after hearing horror stories from friends who delivered in standalone birthing centers, wanted to do it in a hospital setting. Luckily Lawrence, unlike the Texas community where they lived previously, offered that opportunity.
"I'm not big on taking medication in my life anyway, so the thought of being hooked up to an epidural and that whole process scared me," said Rebekah, 27. "I read a lot about how it affects the mother and how it affects the baby. I just wanted it to be as natural as possible for both of us."
Rebekah said the 12-hour labor went "much better" than she expected. She practiced hypnobirthing to relax. She sat in a jacuzzi tub. She walked around.
"I was left alone to let nature take its process," she said. "No one was pushing things on me."
"The thing I was so amazed with was when we were still in the delivery room, I told her, 'I can't believe how good you look,'" said Ryan, 28. "You always see the pictures on Facebook where the husband is holding the baby, the baby is just zoned out, and the mom looks halfway dead. She didn't."