Keepsake grief support program for kids starts June 22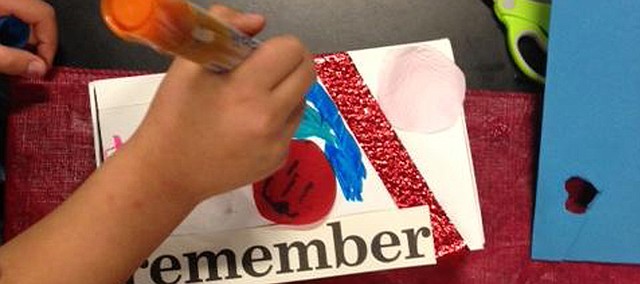 Tracy Cowman's husband died of leukemia in 2006, and she wasn't sure how to help her young son understand what happened.
But Dagen, now 11, found a way to work through his emotions at the Keepsake program, a grief support program geared toward helping children deal with the loss of a loved one.
"I believe the program helped Dagen by letting him know that it was OK to talk about his feelings," said Cowman, of Lawrence. "Sometimes I think that kids aren't comfortable talking about how they feel, especially if they believe that their thoughts are abnormal, irrational or unjustified."
Attend Keepsake
The Keepsake summer session is scheduled for June 22-July 27. The program is free and open to the community, and it is geared toward children ages 8 to 12 who have lost a family member or close friend and have been grieving for at least three months (or more) before the start of the program.
For more information, questions or to RSVP for the program, contact Sarah Rooney at Visiting Nurses at 843-3738 or sarahro@kansasvna.org.
The program, facilitated by Visiting Nurses in Lawrence, gives children the opportunity to work through their grief with discussions and hands-on activities.
Sarah Rooney, hospice volunteer coordinator with Visiting Nurses, says Keepsake is uplifting for kids, and she tries to convey that to parents or caregivers who may have misgivings about how to help their young ones.
"The most likely thing your child will experience is relief," Rooney said. "You can only imagine how alone and different many of these children feel. Being around other kids who are going through the same grief experience is of great relief to them."
Parents or caregivers of grieving children may struggle to help them cope with a profound loss, especially while they too may be grieving, Rooney said.
There's the question of how to talk to a child about loss. What's normal? What are the best methods to help children cope with the emotions they're feeling?
The program's goal is to help families answer those questions and help children move healthfully through the grieving process by talking, creating and potentially making new friends with kids who are going through the same thing.
"It was a great program for connecting with kids who have gone through a similar experience," Cowman said. "They can relate to each other on a completely different level than they can with other kids who may not have experienced significant loss."
Rooney stressed that the facilitators give children the choice to "pass" on any topic they don't wish to talk about.
"While we encourage the kids to attend all Keepsake sessions, a child/family can decide to withdraw at any time if it's not right for them," she said. But the turnaround is typically noticeable.
"After the first three sessions, we often witness this 'lightness' as they get more comfortable talking about their feelings and playing with each other," Rooney said.
The Keepsake program is offered twice a year in the summer and fall. The group meets once a week for six weeks and children are encouraged to attend all the sessions, as they have a progressive format. Parents and caregivers are asked to participate in the first and last sessions only. At that time they will be given information and tools regarding children and grief.
The free Keepsake summer session is from June 22-July 27. The session meets from 5:15 to 6:30 p.m. Mondays at Visiting Nurses, 200 Maine St., on the third floor.
The program is facilitated by Visiting Nurses Hospice staff members Sarah Rooney, hospice volunteer coordinator, and Christina Jordan, hospice social worker.