Parks and Rec to offer stress-relieving yoga workshop this holiday season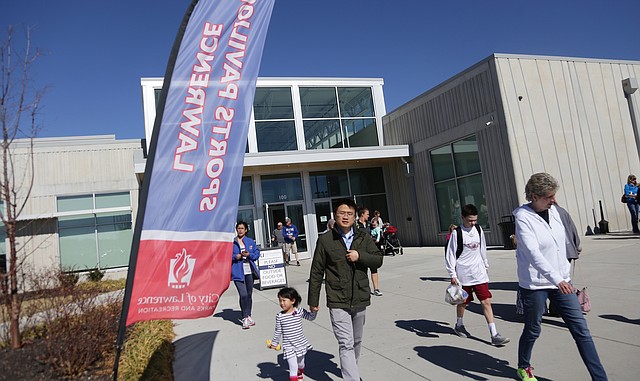 Tuesday, November 22, 2016
The Lawrence Parks and Recreation Department is doing its part to ensure folks breathe a little easier this holiday season.
On Dec. 2, the department is hosting its second annual "Yoga Stress Relief for the Holidays" workshop from 7 to 8:30 p.m. in the fitness room of Sports Pavilion Lawrence, 100 Rock Chalk Lane. And everyone, regardless of skill level, is encouraged to slow down, relax and put aside any post-Thanksgiving, pre-Christmas (or your December holiday of choice) for an evening of de-stressing yoga.
"This is back to the basics of yoga, so you can decompress and be ready for the hustle and bustle ahead, basically," Jo Ellis, recreation instruction supervisor for Lawrence Parks and Rec, says of the popular one-evening workshop.
The class, which sold out last year and promises to be popular again this holiday season, offers a blend of introductory yoga poses (more advanced yogis can modify poses to match their experience level, Ellis says) and guided meditation. The cost is $10 per person.
Holidays are a stressful time, Ellis recognizes, and Parks and Rec's workshop is a way of combatting the stress that seems to pile on this time of year. Namely, there are the seemingly never-ending to-do lists of gift shopping, travel planning and expenses, cooking, cleaning, entertaining and spending time with family. That last one, in the aftermath of November's highly divisive and emotionally charged election, may be especially intense around holiday dinner tables this year.
That's where the healing power of yoga comes in. Multiple studies have shown the activity capable of reducing stress and anxiety, as well as improving fitness overall.
Ellis, an occasional yogi herself, can vouch for that.
"It just helps with your breathing, and your whole body relaxes, is what I've found," Ellis says of her personal experience with the activity.
"I just think a lot of it is in your mind and your body and your breathing," she adds. "OK, just slow down and everything will be fine."
Wise words in the face of the long holiday season ahead.
As of Monday, Ellis said there are 14 spots remaining in this year's workshop. Enrollment caps at 20. To reserve your spot, register online at www.lrpd.org or stop by any Parks and Rec facility. For more information, call Jo Ellis at 330-7355.
If you do end up attending the workshop, be sure to bring a mat.