In aftermath of stressful election, acupuncturist offering free treatments to those in 'helping professions'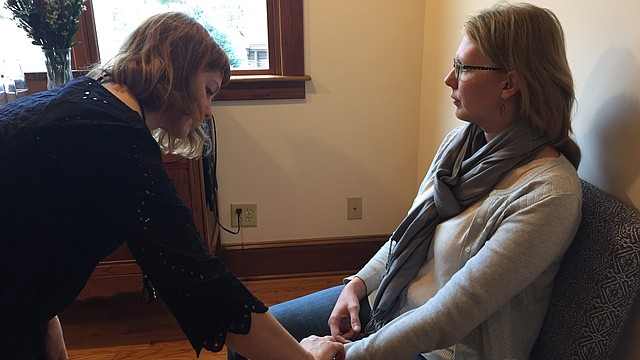 Tuesday, November 29, 2016
It's a chilly Monday afternoon, just around lunchtime, and Stephanie Stuhlsatz is letting her friend stick three tiny needles along the ridges of her left ear.
The friend is Julie Bear Don't Walk, a licensed acupuncturist, and in the past two weeks she has been doling out similar treatments, free of charge, to folks like Stuhlsatz, a certified massage therapist, and others in the "helping professions."
It's her way of saying "thanks" to the health care workers, counselors, therapists, educators, journalists and others who she says have been "deeply and regularly affected" by the 2016 presidential election.
"I figure if they're here, they need it," says Bear Don't Walk, who isn't checking employee IDs to verify the recipients of her free treatments.
These are people, Bear Don't Walk says, that have been working overtime in processing a divisive and emotionally charged election season with clients, patients, students and, at times, the community and nation at large. She and Stuhlsatz have both seen an uptick in visitors to their practices throughout the election — seeking out a bit of peace and quiet, a place to talk or not talk or simply escape from Facebook and the 24-hour news cycle.
They're not alone, either.
The American Psychological Association last month reported that 52 percent of American adults were coping with high levels of stress brought on by the election, according to national Harris Poll survey data released at that time. Therapists and other mental health experts have described this year's presidential election as spurring an unprecedented amount of anxiety in clients on both sides of the political aisle.
Bear Don't Walk understands that stress, because she's been experiencing it, too.
"After the election, I've been reading lots of news, and my nervous system is feeling kind of shattered," Bear Don't Walk recalled earlier this month. "I thought, what can I do?"
She's not exactly one to take to the streets, she admits, so Bear Don't Walk instead chose to stick with what she knows. And what she knows is acupuncture.
"I thought, these are the tools that I have and this is how I can help people who are helping a lot of other people," Bear Don't Walk says.
The treatment, which she describes as virtually painless and taking no more than 30 minutes, involves three needles being inserted into the ear lightly. The idea, she says, is to provide a quick re-set to the nervous systems of those in "helping professions" so that they may continue in their work of "making the world a better place."
After sharing the idea in a Facebook event post in the week following Election Day, Bear Don't Walk says people have begun to trickle into her office, 16 E. 13th St., seeking the free treatments. She expects more to drop in during the weeks ahead as word begins to spread.
The response so far?
"Overwhelming. People have been very, very moved and very, very thankful," she says.
Bear Don't Walk is encouraging anyone in need of the free treatments to stop by her office during the following hours: 8:15 to 1:45 p.m. Tuesday, Nov. 29; 12:45 to 6:45 p.m. Wednesday, Nov. 30; 8:15 to 11:15 a.m. Thursday, Dec. 1; 8:15 a.m. to 2:15 p.m. Tuesday, Dec. 6; 12:45 to 6:45 p.m. Wednesday, Dec. 7, and 8:15 to 11:15 a.m. Thursday, Dec. 8.
She plans on adding more hours, days and times as they become available, and she asks clients to have a snack before dropping in. Acupuncture and an empty stomach, Bear Don't Walk says, do not make for a stress-reducing combination.