Parkinson's disease: Know the symptoms and get the facts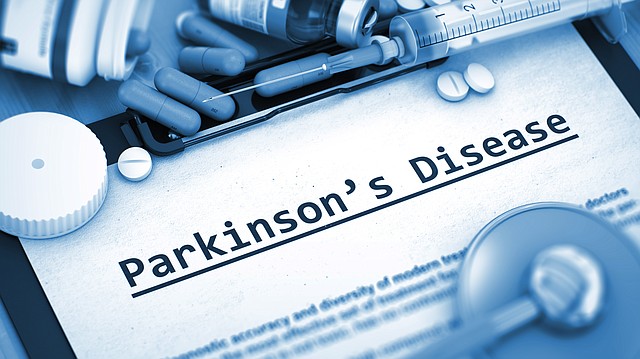 Its cause is unknown; there is no specific test to diagnose it; and there is no cure. Parkinson's disease, a nervous system disorder that affects movement, impacts about 1 million people who are currently living with the condition in the United States.
Parkinson's disease comes with a lot of uncertainty and questions. In Lawrence, a Parkinson's Support Group meets monthly to help individuals and families cope with the challenges of the disease.
The group is joining with Lawrence Memorial Hospital and Dr. Rob Beck of Lawrence Neurology Specialists to present a community program, "Parkinson's Disease Update," at 6:30 p.m. April 10, at the Lawrence Public Library. This program is free and no registration is needed.
Parkinson's disease is thought to be caused by the breakdown and destruction of specific nerve cells in the brain that produce a chemical called dopamine. Dopamine is involved in movement and coordination.
When dopamine production decreases, Parkinson's disease signs occur. It develops gradually and is progressive over time, usually with increasing symptoms and greater disability.
Initial symptoms of the disease will vary from person to person and in fact may not always be recognized as something out of the ordinary. For many, the first sign of the disease is often a mild tremor, sometimes occurring in the hand or fingers. Symptoms often occur initially on one side of the body but with time usually progress to include the other side.
Other symptoms may include lack of facial expressions like smiling, inability to blink, inability to swing arms when walking, and soft or slurred speech.
As the disease progresses, muscle stiffness can limit and slow movement and lead to pain with movement. Those affected may have shortened steps, drag their feet or shuffle when walking, and also have impaired balance, all of which increase the risk of falling.
Later in the disease process, some patients may experience difficulties with swallowing, sexual function, blood pressure, sleep, thinking, bowel or bladder problems, as well as fatigue and depression.
New research is exploring whether the loss of cells in other areas of the brain contribute to some of the Parkinson's symptoms that are not related to movement.
According to the Parkinson's Disease Foundation, each year about 60,000 people are diagnosed with 60 being the average age of onset. Men are twice as likely to be diagnosed with Parkinson's as women. It is relatively uncommon for younger people to have this disease, but actor Michael J. Fox, who has been a leading spokesperson about this disease, was diagnosed at age 29.
The cause of the disease is unknown but having a close relative with Parkinson's disease somewhat increases the chance you will develop the disease. However, risks are still small unless you have many close relatives with the disease.
Most people with Parkinson's disease will see a specialty physician known as a neurologist for diagnosis and management of their disease. There is no specific test to diagnose Parkinson's disease and so diagnosis is often based on medical history, signs and symptoms, and neurological and physical exams. The neurologist also may prescribe a Parkinson's disease medication, and if symptoms improve after the patient takes the medication, that may help to confirm the diagnosis.
There is no cure for Parkinson's disease, but there are several medications that can be prescribed to help control the symptoms. A surgical intervention that involves implanting electrodes in specific areas of the brain to reduce disease symptoms may be an option for certain patients who need additional symptom control beyond what medications provide.
Like with most chronic diseases, lifestyle management is a key component to maintaining health. Eating a healthy diet, not smoking, and regular exercise are very important. Water exercises, tai chi, yoga, and dance are all good exercise options for those with Parkinson's disease. Physical and occupational therapy can provide patients with information about how to manage the limitations of movement and daily activities that may be caused by the disease.
Depression is common in people with Parkinson's disease. Medications can help with this, along with talking to a therapist or with others who also are living with the disease.
Additional Parkinson's disease resources:
• Lawrence Neurology Specialists has three board-certified neurologists who diagnose and treat patients with Parkinson's disease: Dr. Beck, Dr. John Clark and Dr. Sanjeev Kumar. Visit lmh.org/neurology for more information or call 785-830-8234 to make an appointment.
• The Lawrence Parkinson's Support Group meets at 2 p.m. the third Tuesday of each month at the First Presbyterian Church, 2415 Clinton Parkway. For more information contact Luann Wilcox at luann.wilcox@gmail.com.
• For more information online about Parkinson's disease, visit the National Parkinson Foundation (Parkinson.org); the Michael J. Fox Foundation (michaeljfox.org); the American Parkinson Disease Foundation (apdaparkinson.org); or the Parkinson's Disease Foundation (pdf.org).
— Aynsley Anderson Sosinski, MA, RN, is community education coordinator at Lawrence Memorial Hospital, which is a major sponsor of WellCommons. She is a Mayo Clinic Certified Wellness Coach. She can be reached at aynsley.anderson@lmh.org.