Is the emergency room always necessary?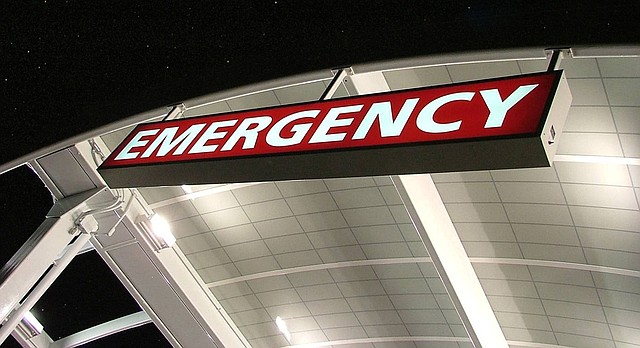 The Centers for Disease Control and Prevention (cdc.gov) notes that annually about 20 percent of adults make at least one visit to a hospital emergency department. Of the roughly 130 million visits each year to emergency rooms, fewer than 10 percent result in an inpatient stay.
Although it's important for people to head to the emergency department, or call 911, for life-threatening illnesses or injuries, some trips can be avoided. If you're interested in hearing an emergency medicine physician's tips, plan on attending a July 11 Senior Supper and Seminar at Lawrence Memorial Hospital.
Dr. Paul Loney says one of the best ways for people to stay out of the emergency department is to focus on staying healthy and staying safe.
For example, among adults 85 and older, the leading causes of emergency room visits are injuries and contusions, open wounds, chest pain and urinary tract infections.
One way to reduce injuries is to reduce the number of times older people fall. Loney has strongly held views about wearing proper shoes, using a cane or a walker if you need one, and avoiding ladders. In fact, he doesn't believe anyone older than 60 should own a ladder or a stepstool.
"Stay away from the ER by being safe and educating yourself about what an emergency is," he said.
Of course, he said, never ignore chest pain or the symptoms of a stroke — or a potentially life-threatening injury. If you experience one of those, call 911 immediately.
As you might expect, the most common reasons for hospital emergency department visits vary by your age. Here's a quick look:
• Infants under age 1 year are treated for fever, ear and other upper respiratory infections, as well as bronchitis, viral infections, and nausea and vomiting. As children get older, they often are more active and exploratory, and they participate in sports and other similar activities. So for children between the ages of 1 and 17 years, injuries and contusions (bruises) are the leading cause of hospital emergency trips, followed by ear and other upper respiratory infections, open wounds, sprains and strains, and fever.
• The top five reasons adults who are 18 to 44 visit the emergency department are sprains and strains; abdominal pain; injuries and contusions; back problems; and headaches that include migraines. In addition to the previous reasons, a leading cause of visits for adults ages 45 to 64 is chest pain.
Visits to an emergency department are expensive, and one may cost two to three times more than visiting an urgent care facility or primary care provider. Studies estimate that more than 70 percent of visits to emergency departments don't require immediate attention or are preventable with outpatient care.
Of course, one of the best ways to stay out of emergency departments is to stay as healthy as possible. In short, follow a healthy lifestyle — exercise, eat a healthy diet, don't smoke, get adequate sleep and keep your weight at an appropriate level. This can help prevent many chronic diseases and other serious health issues that often lead to emergency department care.
Here are some specific steps to take:
• See a primary health care provider regularly for preventive and sick care.
• Get a flu shot each year. They are recommended for anyone 6 months and older. And older adults, or anyone with chronic diseases or weakened immune systems, should have a pneumonia vaccine.
• Don't smoke or use tobacco. If you do, work on quitting. The frequency of respiratory and other acute and chronic illnesses is significantly reduced if a person is tobacco-free. For free help, contact the Kansas Quitline at 1-800-QUIT-NOW or KSQuit.org,
• Wear protective and safety equipment such as helmets, eyewear or padding when engaging in sports or certain work activities.
• Prevent falls. Regular exercise will increase your balance and strength. Make sure your home — both indoors and out — is free from fall hazards. And remember what Dr. Loney preaches: stay off ladders.
• Make sure children are restrained in child-safety seats appropriate for their age and size. And don't forget to wear your seatbelt.
• Manage any chronic conditions such as diabetes, COPD or heart failure. Take medications as directed by your healthcare provider and follow through with other recommendations. Keep your blood pressure, blood sugar and cholesterol levels within the recommended ranges.
• Take prescribed medications appropriately and avoid taking medications that are not prescribed for you.
— Aynsley Anderson Sosinski, MA, RN, is community education coordinator at Lawrence Memorial Hospital. She is a Mayo Clinic Certified Wellness Coach. She can be reached at aynsley.anderson@lmh.org.