Slam-dunk snacking: Sate your March Madness appetite with some of these elite treats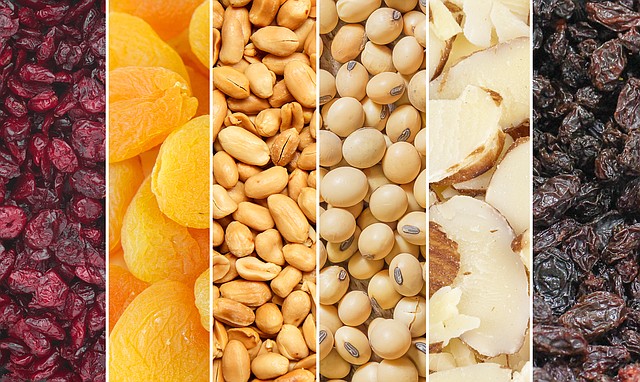 It's basketball tournament time once again. And for many of us, that means watching hoops on television — and perhaps snacking while doing so.
It is important to choose snacks wisely. Munching on many traditional snack foods can add lots of extra calories, unhealthy fats, added sugars and lots of extra sodium to our diets.
Healthy Snack Mix Recipe
Here is a recipe for Heart-Healthy Snack Mix from the Cleveland Clinic (clevelandclinic.org). One quarter-cup has just 110 calories plus lots of healthy fats, fiber and protein, yet it's low in sodium.
1/2 cup unsalted slivered almonds
3 cups whole grain unsweetened cereal
1 cup unsalted, dry roasted soy nuts
1 cup unsalted, dry roasted peanuts
1/2 cup dried cranberries
1/2 cup seedless raisins
1/2 cup dried apricots (or other dried, unsweetened fruits)
For example, did you know that just 11 Doritos chips contain 150 calories? It would take 39 minutes of brisk walking or 17 minutes of jogging to burn off those calories, and many of us cannot just stop at 11 chips.
Consider these healthier options when you are planning snacks for your watch parties.
Better options
Here are several snacks that contain 100 calories or fewer. After each item is the amount you can eat for it to be about 100 calories:
• Almonds (14)
• Baby carrots (25)
• Microwave popcorn, no butter (6 cups)
• Pretzel mini twists (15)
• Grape tomatoes (1 cup)
• Hummus (3 Tbsp)
• Salsa (1 cup)
• Mini-quesadilla (1 small corn tortilla with 1 ounce of low-fat cheddar cheese)
• Watermelon (2 cups)
— Aynsley Anderson Sosinski, MA, RN, is community education coordinator at Lawrence Memorial Hospital, which is a major sponsor of WellCommons. She is a Mayo Clinic Certified Wellness Coach. She can be reached at aynsley.anderson@lmh.org.