Health Champions celebrated: County to recognize residents who enriched community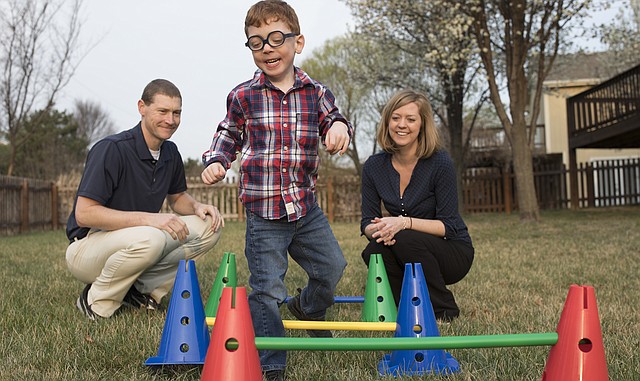 This year's Douglas County Health Champions Evan Jorn and Adam and Rachel Rolf enjoy helping residents of all ages and abilities be active. They say the reward for their volunteer work is seeing the joy and camaraderie that it brings to those they help.
Jorn is known as a pickleball ambassador. He started playing pickleball in 2007 at the Lawrence Senior Center. Since then, he has successfully advocated for more indoor and outdoor spaces to play the game. The Rolfs started a Special Olympics Young Athletes program in Douglas County in November 2015. The sport-and-play program is for young children with intellectual disabilities.
"These individuals have volunteered their time and energy to create and support brand new programs and spaces for residents to lead active lifestyles, and at no cost for residents. In doing this work, they've touched hundreds of lives," Lawrence-Douglas County Health Department Director Dan Partridge said. "We hope you join us in thanking them for their outstanding contributions to our community."
Jorn and Adam and Rachel Rolf will be recognized during a community breakfast from 7:30 to 8:30 a.m. April 7 at the Community Health Facility, 200 Maine St. The event is free and open to the public.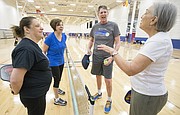 Evan Jorn
Jorn grew up on a farm in northwest Kansas and then spent his career as a social worker, industrial engineer and executive director of a nonprofit in Kansas and Florida. During that time, he never played pickleball.
It wasn't until 10 years ago when he was retired and a volunteer for the Senior Meals program at the Lawrence Senior Center that someone asked him to play pickleball. He did, and he was hooked.
"It's great exercise, and it's tons of fun," he said. Jorn describes pickleball as a sport that combines elements of badminton, tennis and table tennis and is played on a small tennis court. Pickleball can be played as doubles or singles, but Jorn said it's more fun playing doubles. "You're close enough to the other players that it's easy to converse, laugh and have a good time."
Once Jorn started playing and talking to others about pickleball, the number of players quickly outgrew the senior center. So they made an arrangement to play at the East Lawrence Recreation Center, where they used tape to draw the boundary lines.
In 2009, Jorn started teaching pickleball classes through Lawrence Parks and Recreation, and a year later, he volunteered to sign up and pay the dues to become an official pickleball ambassador through the USA Pickleball Association.
He then partnered with Parks and Recreation to create more indoor and outdoor places to play pickleball. There are now several outdoor and indoor courts. These include courts at Holcom Park, Lyons Park, the East Lawrence Recreation Center and Sports Pavilion Lawrence. During the winter, the eight pickleball courts at the Sports Pavilion are typically full of players in the morning, and Jorn is one of them. He often volunteers his time to teach beginners.
"I want to go and play every day that I possibly can. I've never once had to drag myself out to play pickleball. It is so much fun to play that I never feel like I'm working out," he said, adding that he has lost 50 pounds since taking up the sport. He said it's not uncommon for players to shed 10, 20 or 30 pounds. "They play and play and play and they're moving. Often, they're like, 'If I'm moving, why not eat healthier as well?'"
His enthusiasm for pickleball is contagious. He has compiled an email list of more than 300 pickleball players and sends them information about when and where they can play pickleball, including area tournaments.
"He has been a real leader and supporter of this whole movement in town," Mike Wildgen said. "There's basketball, baseball and softball leagues, but there's no pickleball league. This is Evan. He gives up his time to train and educate beginners."
Wildgen and his wife, Linda, enjoy playing pickleball. "It's a social group. I don't know anyone who really cares what the score is. It's just one of those things that's intense, athletic and a lot of fun," Wildgen said.
In December, Jorn was showered with thank-you notes in the shape of pickleball paddles during a surprise party. They described him as kind, big-hearted, patient, an organizational guru, director of fun and wonderful listener.
Laurie Bottenfield, 70, gets emotional when talking about Jorn and her pickleball family. She said she was terrible at pickleball when she first started, but Jorn and everybody else kept playing with her nevertheless. Now, she helps other beginners who were once like her. She said many of the players have become close friends. When her husband died two years ago, she said they helped her in many ways. "Pickleball has saved my life," she said. "This is a super group of caring people inspired by Evan's example. He's good at including other people and is a great role model for all of us."
Jorn also is a member of the Lawrence Breakfast Optimist Club, volunteers to help people enroll in Medicare at the senior center and sings in three choirs. "I'm happily busy," he said.
Adam and Rachel Rolf
When Adam and Rachel Rolf's son, JJ, was 3 years old, they began looking for opportunities for him to engage in activities with other children. He had been diagnosed with two genetic syndromes that cause intellectual and fine motor disabilities.
"There are unique challenges for families who have a child with special needs," Rachel Rolf said. For example, if a child is unable to participate in traditional youth activities, the child and his or her family can lose that opportunity to connect with others and, as a result, can become more isolated.
During their research, they came across the Special Olympics Young Athletes program for children, ages 3 to 7, with intellectual disabilities. There wasn't one in Douglas County or the surrounding area, so they decided to start one.
The Young Athletes program introduces basic sports skills like running, kicking and throwing, and it also teaches children how to play with others. The Rolfs coordinate the Douglas County program, which typically meets twice a month for an hour at Sunset Hill Elementary School, and it's an hour the children look forward to.
"She just gets so excited," said Paula Lavin of her 7-year-old daughter, Peyton, who has Down syndrome. "It's an opportunity for her to come and meet with a bunch of kids at the same level she is. It's definitely helped her get her feet off the ground and be social with the other kids."
During a recent class, the children participated in warm-up exercises like touching their toes, waving the wheat and catching colorful pieces of fabric that slowly floated down after being tossed in the air. Then, they did activities like marching, playing "Follow the Leader" and completing an obstacle course.
"A lot of these kids don't participate well in T-ball or other organized sport activities, so for these kids, this is their game day," Adam Rolf said. "This is when they get to show what they can do and have a lot of fun."
The Rolfs volunteer to create the activities to fit the specific needs of the children. They schedule the classes and recruit volunteers to help with each class. They also work with Kansas Special Olympics, elementary schools and preschools to inform parents about the program.
Jill Fitzmorris said she has watched her 4-year-old son, Ridley, flourish during the classes. Ridley has nonverbal autism and apraxia, a neurological condition that affects motor movements. "It has truly warmed my heart to watch him grow as he has participated in the program," she said. "We had tried other organized activities, but Ridley couldn't participate due to his disability. Thanks to Adam and Rachel, Ridley has an opportunity to learn, grow and have fun."
Adam Rolf, a physical therapist, and Rachel Rolf, an attorney, said they thoroughly enjoy their volunteer work and seeing children, including their son, who is now 4, thrive by participating in the Young Athletes program.
"As JJ and the other kids get older, they will be able to participate in Special Olympics sports. This sets them up to succeed, which I think is pretty cool," Adam Rolf said. "Just like we have systems in place for football, where kids can prepare to play in high school. This is a way for kids with special needs to participate when they are older."
Rachel Rolf recalled pairing up with a boy who was hesitant to join the activities. She held his hand, and he started participating with her encouragement. Soon, he was stepping over hurdles and jumping. "To see him accomplish those activities with a huge smile on his face and looking over at his parents because he was so proud of himself, and then his parents had tears in their eyes because he was able to participate — that was just really cool to see."
— Karrey Britt is the communications coordinator for the Lawrence-Douglas County Health Department.