Beyond 'baby blues'
Many new moms suffer severe depression and anxiety, but there's help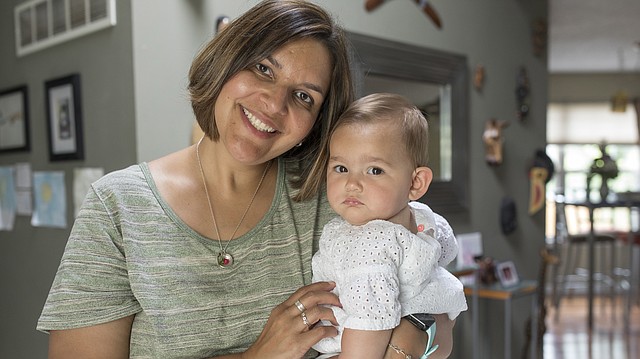 Anjali Kansal-Rill sits on the living room floor of her Lawrence home and plays with her 8-month-old daughter, Amara. "I feel good. We have fun together," Kansal-Rill said, with a smile.
Seven months earlier, that wasn't the case. Kansal-Rill was depressed and thinking about suicide. "I'm not sure what would have happened if my husband hadn't dragged me to the doctor. I would be a depressed mess or I wouldn't be here," she said.
Kansal-Rill, 36, a social worker, said she worried about struggling with postpartum depression before she became pregnant because she had suffered mild depression earlier in her life. "It runs in the family, and I was very aware of it."
One week after Amara was born, Kansal-Rill said she didn't feel like herself and mentioned it to her doctor. The doctor said if she was still feeling down at her next appointment, which was eight weeks later, she would prescribe medications.
Support for parents
A "Climb Out of the Darkness Meet-up and Climb" event is scheduled from 9 a.m. to noon June 24 at Clinton Lake's Overlook Park, 801 North 1402 Road. Participants can bring brunch snacks to share, and a 1-mile walk will begin at 11 a.m. The event's goal is to raise awareness about Perinatal Mood and Anxiety Disorder and funds for Postpartum Support International. For more information, visit the Lawrence-Douglas County Health Department's website, ldchealth.org.
Build Your Village, a free peer support group for mothers suffering from pregnancy or postpartum adjustment challenges, meets from 10 a.m. to 11:30 a.m. Thursdays in the Auditorium on the lower level of Lawrence Memorial Hospital. Use the 330 Arkansas St. entrance.
Kansal-Rill agreed and thought maybe she had been overreacting, but her condition worsened. She said a series of events created what she described as a snowball effect. First, she had an unplanned cesarean section, and then she struggled with breast-feeding. The baby wasn't latching, and she wasn't producing enough milk. Kansal-Rill tried taking supplements and drinking shakes and teas, but they didn't work. Her doctor told her that she needed to feed Amara formula because she wasn't gaining weight. "That was devastating to me because it is drilled into your head that breast is best, and that's the best thing for your baby."
Kansal-Rill recalled the night that she hit a breaking point. She got up to take care of Amara, who was crying, and she tried to wrap her in a blanket. "She was wiggling, and her arms were going everywhere," Kansal-Rill said. "I got so frustrated that I wanted to pick her up and throw her. I was thinking, 'I can't do this.'" Her husband took the baby and knew his wife, who was crying, needed help. He asked her what she was thinking, and she responded that she felt like a failure and had thought about suicide. "I just really felt like I was failing her and that it wasn't worth it. I thought she would be better without me because I couldn't take care of her," Kansal-Rill said.
Her husband made an appointment to see the doctor the next day. "When we got there, I didn't want to tell my doctor because I was ashamed. In our culture, unfortunately, mental health is looked down on and is seen as a weakness." The doctor prescribed medications, and then made follow-up phone calls.
"It's scary, and it's real for many of us moms. You are supposed to feel happy because you have this, hopefully, healthy baby. You're supposed to be happy and joyous — a picture like you see in the Huggies commercials — but you're not."
Besides the medications, Kansal-Rill also found help by attending a support group for mothers called Build Your Village that meets weekly at Lawrence Memorial Hospital. She recalled breaking down and crying at her first meeting when someone asked how she was feeling. "They listened and provided support. Now, I have a great group of mom friends," she said.
Lawrence resident Melissa Hoffman, a registered nurse at LMH, founded Build Your Village nine years ago after suffering from Perinatal Mood and Anxiety Disorder (PMAD). She had panic attacks and intrusive thoughts and was reluctant to seek help. "I realized after becoming a mom that there really wasn't a place to go talk about stuff that aren't all smiles when it comes to motherhood. There wasn't an outlet to talk about relationship changes, lack of sleep, role changes and all of the things that come along with becoming a mother," she said. "If a mother is suffering from depression or anxiety, they need a place to talk about those emotions, as well as a place where they won't be judged by somebody else."
Hoffman said about 80 percent of moms will experience what's called the "baby blues" or the normal adjustment period, which includes an emotional roller coaster ride, sleep deprivation and adjusting to a new role. Baby blues should be resolving and getting increasingly better within two to three weeks.
If conditions persist past the three-week mark, Hoffman said women should seek medical help. One in seven women will experience a mood disorder, such as depression, anxiety and obsessive compulsive disorder, in pregnancy or postpartum. Symptoms include: crying, sadness, anger, change in sleep, change in appetite, loss of pleasure, fear and excessive worry. Women also can have intrusive or disturbing thoughts, and they often are associated with the baby. Hoffman said these intrusive thoughts should not be mistaken for psychosis, which involves hallucinations and delusions. Psychosis is a break from reality and it is a mental health emergency, said Hoffman, who is the Midwest regional coordinator and Kansas coordinator for Postpartum Support International.
Hoffman said there are factors that can put a woman at a higher risk for developing Perinatal Mood and Anxiety Disorder. They are:
• Medical — history of infertility, thyroid disease, severe premenstrual syndrome and mood changes while taking birth control or fertility drugs.
• Social — poor system of support, stressful life events like a move or job change, quick return to work and short hospital stay.
• Emotional — family or personal history of mood illness, poor stress coping skills, early childhood issues, relationship problems, loss of loved one, previous episode of postpartum depression and symptoms during pregnancy.
About 10 percent of dads also will experience Perinatal Mood and Anxiety Disorder, Hoffman said, and they tend to experience it three to six months after the birth of their child. "For men, it looks more like anger, irritability, pushing back, finding escape or spending more time at work. When women are suffering, men are 50 percent more likely to suffer their own mood disorder."
Hoffman said it's important for health care providers to screen for Perinatal Mood and Anxiety Disorder, so they can start interventions and treatment earlier. Treatment options include: medications, therapy and social support. "It may take weeks or months to feel better. It depends on each person," Hoffman said. "The good news is that you will feel like yourself again. It's definitely a treatable thing."
Lawrence resident Emily Winters, 31, a neonatal intensive care nurse at Overland Park Regional Medical Center, advocates for better screenings and awareness after her Postpartum Mood and Anxiety Disorder was missed by health care providers and agencies.
She said her son, Harvey, was born with tongue-tie, where the tongue is connected to the bottom of the mouth by a band of tissue. This caused issues with breast-feeding. "I thought after the surgery, everything would be magically better, but it wasn't," she said.
She felt restless and was obsessed about her son's health and supplying enough breast milk. She decided to attend a Build Your Village meeting when her son was 2 months old to get out of the house and to learn more about the group so she could refer her patients.
That's when she learned she might have a mood disorder. "I had heard of postpartum depression, but not anxiety. I was having anxiety," she said. At one point, she was taking 16 pills a day to increase her breast milk supply and constantly searching online for other options. She also measured her breast milk down to the milliliter — even when her son was 7 months old. "Once I found Build Your Village, that was huge for me," she said. "Honestly, I'm not sure where I would be without it."
With support from Hoffman, she started taking medications for the anxiety when Harvey was 8 months old, and within a week, felt better. She also went to a therapist. "For me, it was hard to admit that I was struggling, and that I didn't have all of the answers," she said. "Especially, because I was a baby nurse and a nanny for tons of babies and wanted to be a mom my whole life."
— Karrey Britt is the communications coordinator for the Lawrence-Douglas County Health Department.