Call me a giant hypocrite. I went out and paid money for the very thing I talked smack on just a few months earlier. I know. I'm shaking my head at myself. I promise that I had two very good reasons for this though.
I get caught up in all things Christmas and get out of hand.
HJ has hit the "terrible twos" and I thought the snitch would help.
Here she is: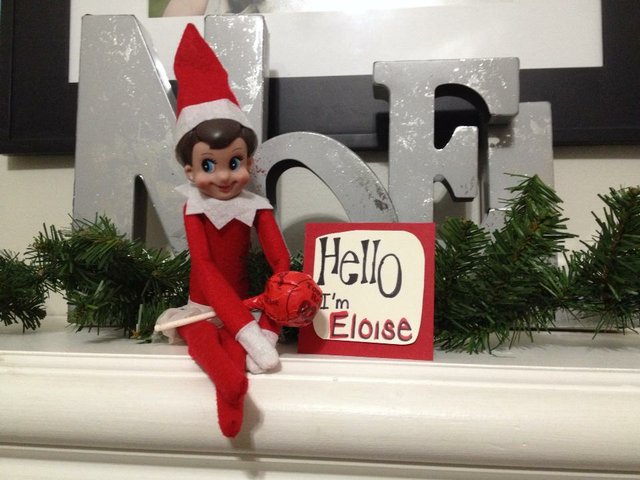 Obviously, I chose her name. I know technically the kids are supposed to do it, but HJ just isn't quite there yet. I let her practice naming things before the elf arrived and it did not go well. I lined up four Barbies and had her pick a name for each. She chose: Pam (her Mimi's name), Ben, Ben, and Barbie. Yes, two Bens. She names almost everything Ben. We don't even know any Bens. I have no idea where this came from.
Anyways, I can't listen to anymore "Ben" and naming it after her Mimi is just confusing. So Eloise it is. The girls can pick a new name for a "new" elf next year. Pfft.
Right before Eloise made her big debut, thankfully, a seasoned parent on my Facebook feed delivered a word of advice to we Elf on the Shelf newbies: Set the bar low, especially if your children are young.
She said that it gets pretty hard to come up with new hi-jinks for the elf to get into and if you break out all the big guns too early, there'll be a lot of late nights trying to come up with new tricks. (Yes, that's just another way of saying "searching Pinterest for hours").
I'm not gonna lie, whenever anyone's advice consists of aiming low, I'm all OVER it. I've got enough crazy on my plate. Just adding a small dab of the next course is just fine by me.
So that rules out the following Elf on the Shelf ideas:

• REALLY? I mean, yes, it's cute, but who has that kind of time?! No. Eloise will be homeless.

• Yeahhhhhh, NO. I have enough trouble keeping HJ's artwork on the correct surfaces. Eloise will NOT be showing her how to color on our photos. Granted, maybe we can bust this back out when Sharpies are not considered contraband.

• Seriously? Seriously. Why don't we just go ahead and serve a tray of crackers in the bathroom to go with the new toilet water dip? Because that's what my two-year-old and eight-month-old will do. They'll see those goldfish crackers floating around and think SNACKS!!!! I bet they wouldn't even see the elf.
Sooooo yeah. We are keeping Eloise pretty tame this year. Anyone got any good ideas for our toddler-friendly magic elf/snitch?
Tagged: christmas, kids, holidays, elf on the shelf